Research News
Columbia-Led Team Wins $26M NSF Grant to Develop Center for Smart Streetscapes
August 10, 2022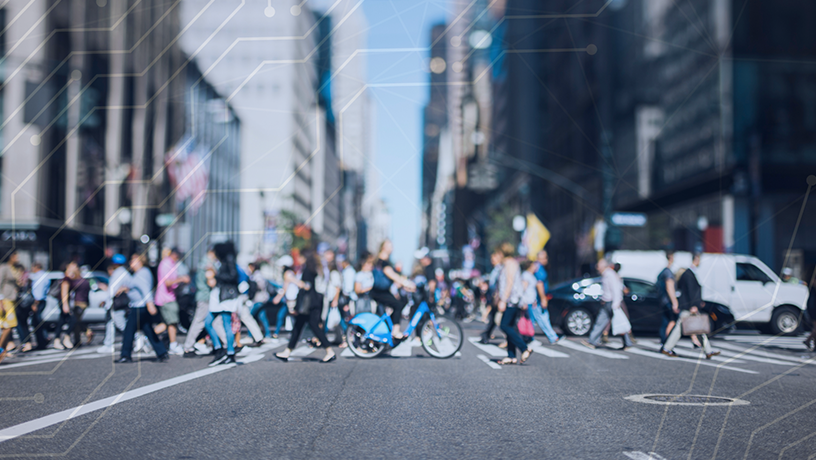 The National Science Foundation (NSF) announced today that it will award a $26M, five-year grant to a team led by Columbia Engineering, together with Florida Atlantic University, Rutgers University, University of Central Florida, and Lehman College, for a new Gen-4 NSF Engineering Research Center for Smart Streetscapes (CS3). The grant, which is one of the largest NSF research grants to Columbia University's Morningside campus to date, supports high-risk, high-payoff research centers focused on advancing engineered systems technology and education with high-societal impact, will fund the development of streetscape applications to forge livable, safe, and inclusive communities.
More than 80% of Americans and over half the world's population live in urban areas. High-density cities are transforming how people live, work, travel, and manage urban infrastructure. With the nation's urban areas facing challenges that threaten livability, safety, and inclusion, it is streetscapes—neighborhood streets, sidewalks, and public spaces—that are at the center of public and commercial activities, where data can be harnessed for the public good.
Understanding complex streetscapes in real time requires progress in fundamental engineering knowledge and enables exciting opportunities for deploying public interest technology. A smart streetscape of the future can instantly sense human behavior and guide disabled pedestrians, collect refuse, control pests, amplify emergency services, and protect people against environmental and health threats. It can address unmet needs in road and public safety, traffic efficiency, assistive technologies, outdoor work, and hyper-local environmental sensing. The CS3 project is focused on doing all that with the active, ongoing collaboration of its many diverse stakeholders.
"With this grant, we have an opportunity to transform this nation's streetscapes with smart technologies that address critical safety, equity, privacy, and security concerns," said Columbia President Lee C. Bollinger. "By helping cities better meet the needs of local communities, this project exemplifies what I call the Fourth Purpose of the University—a vision that embraces the capacity of educational institutions to advance human welfare through academic work and with outside partners."
The center is taking a new approach to engineering research on smart cities: the researchers are working closely with a diverse cohort of more than 80 non-academic community stakeholders—industry partners, community organizations, municipalities, and K-12 schools—both as collaborative co-producers of knowledge and as auditors of technology research and development. CS3 researchers and partners will collaboratively shape research objectives and application outcomes and support workforce development, internships, industry collaborations, entrepreneurship, student opportunities from middle school through postdoctoral programs, visiting faculty, and community engagement.
"Through a multitude of strong public and private partnerships, we now have the opportunity to realize a vision for the future of smart streetscapes and the true smart city," said Columbia Engineering Dean Shih-Fu Chang. "CS3 is a natural and powerful expansion of Columbia Engineering's commitment to engineering for humanity. It will advance fundamental knowledge in key areas in civil and urban systems engineering—from visual analytics and sensor fusion to computer privacy and security—mobilizing the emerging discipline of smart cities."
The center's underlying technologies will integrate advances in wireless/optical communications, edge/cloud computing, situational awareness, and privacy and security, while balancing public sphere data collection requirements with community-defined benefits. With its extensive network of partners, CS3 will unite diverse research communities through a convergent research model that delivers innovations across five engineering and scientific areas:
"Wi-Edge" – the integration of high-speed wireless-optical networking, high-performance edge-cloud computing, and software-defined radios and networking
Situational Awareness – fine-scale, real-time observation, modeling, and forecasting of human behavior over variable time horizons at streetscape scales
Security, Privacy, and Fairness – addressing socio-technical barriers of privacy and security within locally intelligent streetscapes, yielding a software pipeline for streetscape applications that gives community-configurable guarantees of privacy, fairness, and transparency
Public Interest Technology – understanding how CS3 technologies, applications, and security/privacy policies impact the social landscape and promote regional economic development
Streetscape Applications – incorporating the distinct ways in which individual communities read, interpret, and respond to local intelligence within the design process in order to optimize community-specific benefits.
"This NSF Engineering Research Center is the perfect vehicle to make an impact right now," said CS3 Director and Principal Investigator Andrew Smyth, Robert A.W. and Christine S. Carleton Professor of Civil Engineering and Engineering Mechanics. "This is a federally funded academia-led center with real working partnerships with community organizations, local, state, and federal government entities, as well as small, medium, and large industry stakeholders, all working together to develop technologies that are actually beneficial to a broad range of stakeholders for prioritizing the social good."
Columbia Engineering's key partners at the University include the Data Science Institute, a leader in data science research with expertise in smart cities sensing, computer vision, human-computer interaction, and urban policy and management.
Other partners include:
Columbia's Faculty of Arts and Sciences, which offers a wide range of expertise in data science education and workforce development, led by Statistics Professor and Department Chair Tian Zheng;
The School of International and Public Affairs (SIPA), which for more than 75 years has been educating professionals who work in public, private, and nonprofit organizations to make a difference in the world. SIPA's participation in the project is led by Ester Fuchs, professor of international and public affairs and political science and director of the School's Urban and Social Policy program, who emphasizes the importance of community engagement;
Columbia Technology Ventures, which is working closely with CS3 to foster the entrepreneurial spirit of the student body and faculty, and to cultivate institutional connections with industry.
Columbia Executive Vice President for Research Jeannette M. Wing, who is also a professor of computer science, noted, "When people from different perspectives and areas of expertise come together, sparks fly. Under the platform of CS3, this unique constellation of researchers and educators has the opportunity not only to ask questions they would never have been able to ask on their own, let alone answer, but they also get to connect dots across campuses and beyond the university gates."
Read More: Team Led by Columbia Engineering Wins $26M NSF ERC Grant to Develop Center for Smart Streetscapes