Events
Race + Data Science Lecture Series: Mutale Nkonde, AI for the People
Thursday, April 15, 2021
12:00 pm - 1:00 pm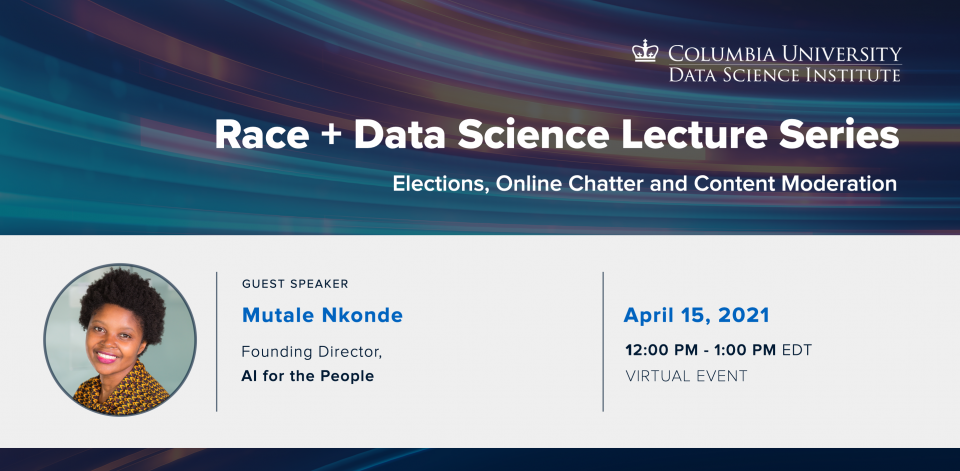 The Race + Data Science Lecture Series aims to celebrate and advance research in the areas of race and data, engineering, and computational science. With this series of events, our goal is to improve how we as data scientists and data-adjacent researchers speak about race. 
---
Guest Speaker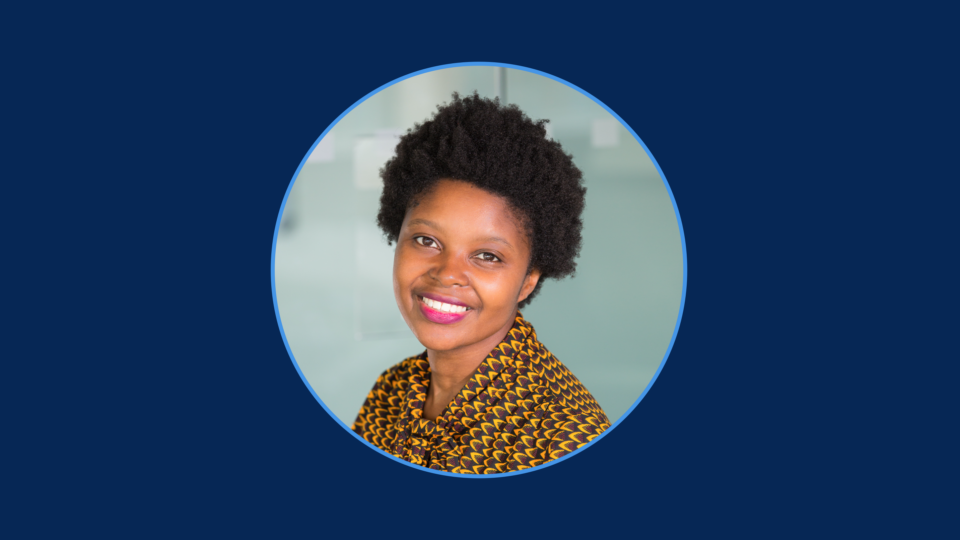 Mutale Nkonde, Founding Director, AI for the People
---
Details & Recording
Thursday, April 15, 2021 (12:00 PM – 1:00 PM EDT) – Virtual
---
Chair & Moderator
Desmond Upton Patton, Associate Director of Diversity, Equity and Inclusion, The Data Science Institute, Columbia University. Patton is also Associate Professor of Social Work; Associate Dean of Curriculum Innovation and Academic Affairs; and Courtesy Appointment in Department of Sociology, Columbia University School of Social Work.
---
Abstract & Biography
Elections, Online Chatter and Content Moderation
Abstract: The talk centers on the work done by AI for the People on racially targeted disinformation on Twitter during the 2020 Election and the challenges we faced communicating this to trust and safety teams because of their lack of how to read online culture through speech. The talk will introduce listeners to how the environment changed from 2016 to 2020, our findings detailed here and end with recommendations on how to increase the racial literacy of computer scientists working in industry settings.
Bio: Mutale Nkonde is the founding director of AI for the People, a non profit communications firm that uses journalism, arts and culture to advance racial justice in tech. During the 2020 presidential election her team identified a disinformation network targeting Black voters in the Philadelphia news ecosystem, and published the findings in the Harvard Kennedy School's Misinformation Review, read it here. In 2021 AI for the People launched their biometric justice vertical by producing a film supporting a ban of facial recognition in New York State, in partnership with Amnesty International, watch it here. Nkonde writes widely on racial impacts of advanced technical systems, is a widely sought after media commentator and seeks to create a safe space for Black technologists who feel marginalized within the wider tech sector.
Prior to this she lead a team that introduced the Algorithm and Deepfakes Accountability Acts and the No Biometric Barriers Act to the US House of Representatives in 2019 and started her career as a broadcast journalist before transitioning into the world of tech. She currently sits on the Tik Tok Content Moderation Advisory Board, advises the Center of Media, Technology and Democracy at McGill University and is a key constituent for the UN 3C Table on AI.
---
The Race + Data Science Lecture Series is supported by funding from the MacArthur Foundation and New America.