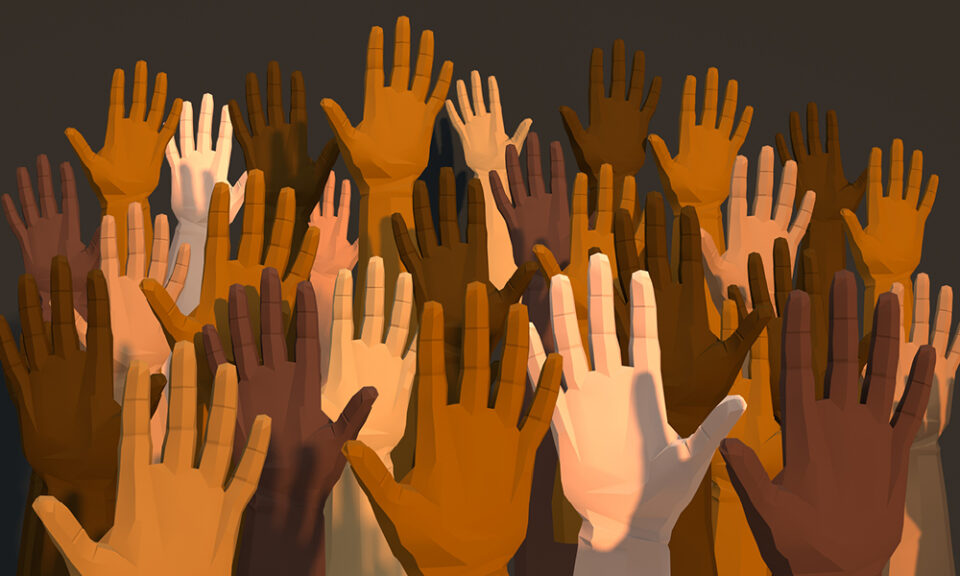 As efforts to address environmental, social, and governance (ESG) goals increase, governments collaborate with industry to promote corporate accountability and develop consistent global standards and benchmarks to quantify, measure, and disclose risks and impacts.
Data Science Institute (DSI) Data for Good Scholars, including Raiha Khan, Isha Shah, Sabrina Jade Shih, Jay Trevino, and Jun Yi Zhang, support these efforts through a partnership with Rights CoLab, which advances human rights by fostering collaboration among experts across civil society, technology, business, and finance.
The scholars recently contributed updates to an influential set of investor-backed ESG standards developed by the Sustainability Accounting Standards Board. The standards, which have implications for investors, business, and regulators worldwide, became part of the International Financial Reporting Standards Foundation and its International Sustainability Standards Board in June 2022.
Columbia University students have worked with Rights CoLab cofounder Joanne Bauer and her colleague Paul Rissman since December 2019 to uncover evidence of the financial materiality of human rights risks and inform disclosure standards related to human capital.
"When an issue is deemed financially material, investors have a legal, fiduciary duty to their beneficiaries to account for it," said Bauer, who is also an adjunct professor at Columbia University's School of International and Public Affairs. "Disclosure standards for human rights are a key way to ensure that businesses pay attention to them in their operations. With the high market demand for research-backed ESG standards that are financially material, automation is essential. With the DSI students' help, our project is lighting a path for how to do that."
The project focuses on two approaches: 1) extending existing labor topics to more industry standards, and 2) identifying new risks that are missing from the disclosure standards that can be translated into metrics. In both cases, data scientists use natural language processing and other machine learning methods to identify relationships between terms that represent specific company labor practices and risks or opportunities. The quantification and documentation of these relationships provides evidence of the financial impact—positive or negative—of corporate labor practices.
The DSI scholars analyzed global news stories using the FactSet's Truvalue Spotlight Events database to discover and document the co-occurrence of terms related to labor practices and language related to financially impactful outcomes, including consumer protests, lawsuits, or compensation. They also reviewed corporate financial filings, proxy statements, and earning calls for the co-occurrence of terms related to diversity, equity, and inclusion and labor conditions in the supply chain.
Raiha Khan, a Columbia computer science graduate student and a Rights CoLab project coordinator, appreciates the project's ease of interpretability. "There is no ambiguity. The data is telling you a story based on what you are looking for. It gives you confidence in the results."
Ultimately, this information may be used to improve labor rights, which will benefit workers while reducing reputational, operational, and legal risks for companies, according to Khan. "Being able to use data science to highlight worker voice and agency, and to help investors make informed decisions around company practices is extremely rewarding work."
DSI associate research scientist and Data for Good Scholars program director Ipek Ensari supervises the data science methods selection and implementation and challenges the students to convert expansive social questions into quantifiable data science questions. "On a granular level, what keywords should we be searching for? How is equity, inclusion, diversity discussed? Is it superficial or meaningful? There are no existing word libraries for these topics," she said.
Ensari has observed that Columbia students are eager to collaborate with Rights CoLab—and they stay for the long-term. "It's the type of project that taps into and enhances student passions."
— Karina Alexanyan, Ph.D.