DSI News
Using Data Science to Empower Young Fashion Designers and Entrepreneurs
January 11, 2021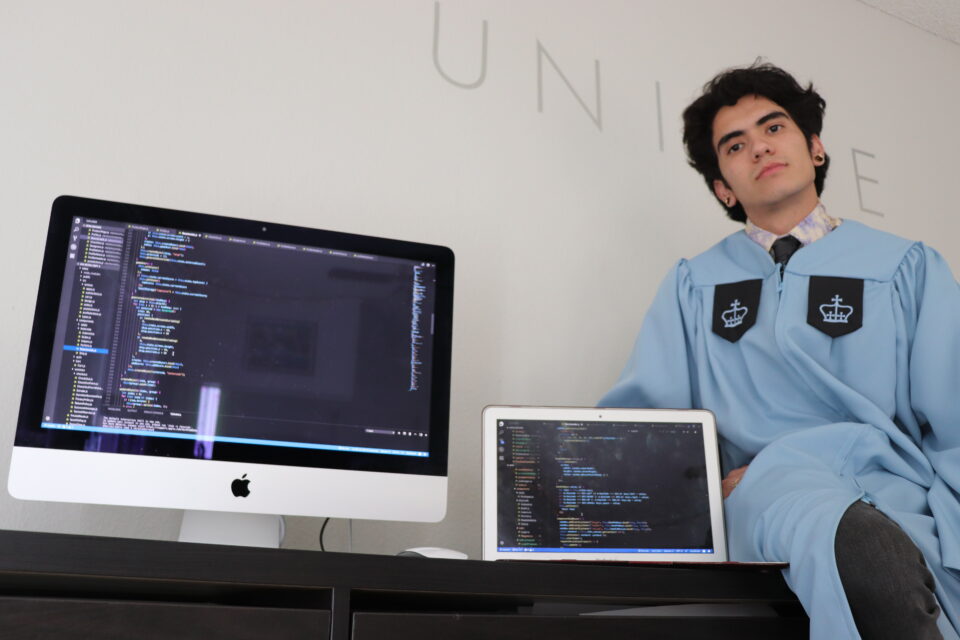 Physics, fashion, and youth empowerment—these three apparently disparate topics unite in the ambitious vision of Christian Cruz Godoy (SEAS '20), founder of Uni-ke, an online platform for creative entrepreneurship and community empowerment.
Godoy, who is a former research assistant for the Data Science Institute (DSI) at Columbia University, launched Uni-ke to teach young artists the principles of the fashion industry—from design through production—so that they may own the full process of bringing their products to market. Participants have access to training and tools in a physical space, as well as an online marketing platform, and a robust data-driven backend managed by the artists themselves.
Uni-ke weaves together Godoy's background as an undocumented immigrant, his academic training in applied physics, a powerful drive to give back to his community, and his childhood in California, where his family survived in the informal economy. "I've been an entrepreneur since my earliest childhood memories due to my family's need to survive in the U.S. as undocumented individuals," he explained. "We sold everything we could: water bottles, snacks at parks, sandwiches."
After his father was deported, Godoy's mother taught her children how to make floral arrangements to sell at flea markets and busy avenues. This birthed young Godoy's inner artist. "But it also birthed my pride in labor," he said. "And I always knew my story wasn't one of a kind, because my friends were also going through similar strife."
Godoy's academic and creative abilities brought him to Columbia to study applied physics in 2016. As an undergraduate in New York City, he was overwhelmed by the disparities in wealth and opportunity, and felt guilty for his own comfort.
Motivated by the desire to leverage his skills and help youth from similar backgrounds, Godoy conceived of a platform and venue that would offer young artists professional development and economic empowerment. "Uni-ke provides youth with an avenue to express themselves, become entrepreneurs, join a community that will become a family, and ultimately spark a desire to continuously learn."
Godoy focused on the fashion industry because of its extended supply chain, which offers a range of professional opportunities—from design to manufacturing to marketing and distribution. He familiarized himself with the components of the fashion industry, developed a business plan, learned web design, and coded the back and frontend of his platform. He also established a partnership with MakerSpace NYC, which has product development and fabrication facilities in Brooklyn and Staten Island, recruited his first cohort of designers, taught them how to produce garments, established a production and photography studio, beta-tested the process, and launched the first collection designed and produced by all low-income youth.
The support Godoy received from DSI in 2019 was instrumental to Uni-ke's launch, and he is grateful to Susan McGregor, an associate research scholar and co-chair of DSI's Center for Data, Media and Society, for the way that she "took the time to truly listen to what we were trying to do."
McGregor is similarly inspired by Godoy's thoughtfulness, creativity, and commitment. "Christian impressed us with his technical expertise, but also his passion about this artistic, creative endeavor. We liked that he was partnering with academic departments that we hadn't worked with before, and he clearly has the respect and consideration of his faculty mentors, Ana Paulina Lee and Eitan Grinspun," she said. "Uni-ke is a gateway for its users—it has a business application, but is rooted in intellectual analysis and rigour. This is exactly the role that DSI and the Center for Data, Media and Society want to play: to support promising interdisciplinary work at an early stage."
At the heart of Godoy's approach is empowerment through independence. He has thought deeply about economic processes, and the way they often subjugate the individual to the larger system. Consequently, an essential part of his approach involves teaching participants how to understand, own, and manage their data—to "reclaim digital real estate," as he describes it. Uni-ke's site is intentionally designed with transparency and empowerment; the platform serves the individual, versus the other way around. "This approach allows for the creation of new small businesses thus increasing creative entrepreneurship in a decentralized model that redefines impoverished communities as agents of their economies and not subjects of their economies," he explained.
In the end, Godoy is a practitioner of applied, not theoretical, science. He has leveraged his understanding of systems and processes to develop a platform that makes a difference in the world—uplifting young people through training and professional development and putting the tools for creating their future in their own hands.
— Karina Alexanyan, Ph.D.