Diversity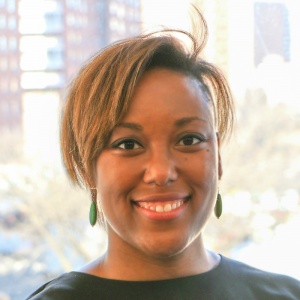 Courtney D. Cogburn
Data Science Institute

Associate Director of Diversity, Equity and Inclusion

School of Social Work

Associate Professor of Social Work
Center Affiliations
Computational Social Science Co-Chair
Dr. Courtney D. Cogburn serves as Associate Director of Diversity, Equity and Inclusion and chair of the Institute's Race and Equity Advisory Council. Dr. Cogburn will focus on DSI's programming and integrative strategy for addressing racial equity and diversity in data science; and expanding existing and future collaborations with other universities and external partners on actions to support racial diversity, equity and inclusion.
Dr. Cogburn currently serves as an Associate Professor of Social Work employing a transdisciplinary approach to examining the role of racism in the production of racial inequalities in health. She is on the faculty of the Columbia Population Research Center and as a member of the Data Science Institute, she co-chairs the Computational Social Science Working Group. The National Institutes of Health, the Robert Wood Johnson Foundation, and the Brown Institute for Media Innovation at the Columbia School of Journalism have supported her work.
Dr. Cogburn is interested in the ways we characterize and measure racism and the effects of racism on racial inequalities in health. She has focused on examining the effects of cultural racism in the media on acute physiological, psychological, and behavioral stress responses as well as associations between chronic psychosocial stress exposure and Black/White disparities in cardiovascular health and disease. She is also developing a project using data science to explore links between media-based racism and population health. Dr. Cogburn is the lead creator of 1000 Cut Journey, an immersive virtual reality racism experience that was developed in collaboration with the Virtual Human Interaction Lab at Stanford University and which premiered at the Tribeca Film Festival in 2018. The team is now exploring the use of the VR experience in affecting empathy, racism, structural competence and behavior.
Prior to Columbia, Dr. Cogburn was a Robert Wood Johnson Foundation Health & Society Scholar at the Harvard T.H. Chan School of Public Health and the Harvard Center for Population and Development Studies. She holds a BA in Psychology from the University of Virginia, an MSW from the University of Michigan School of Social Work, and a PhD in the Combined Program in Education and Psychology from the University of Michigan. Dr. Cogburn is also a board member of the International Center Advocates Against Discrimination.
Courtney Cogburn, Christine Hendon Receive 2022 Faculty Service Awards