Faculty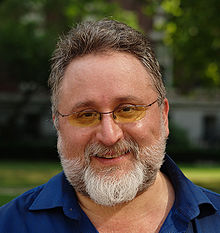 Eben Moglen
Columbia Law School

Professor of Law
Moglen started out as a computer programming language designer and then received his bachelor's degree from Swarthmore College in 1980, where he won the Hicks Prize for Literary Criticism. In 1985, he received a Master of Philosophy in history and a JD from Yale University. He has held visiting appointments at Harvard University, Tel Aviv University and the University of Virginia since 1987.
He was a law clerk to Justice Thurgood Marshall (1986–87 term). He joined the faculty of Columbia Law School in 1987, and was admitted to the New York bar in 1988. He received a Ph.D. in history from Yale University in 1993. Moglen serves as a director of the Public Patent Foundation.
Moglen was part of Philip Zimmermann's defense team, when Zimmermann was being investigated over the export of Pretty Good Privacy, a public key encryption system, under US export laws. In 2003 he received the EFF Pioneer Award. In February 2005, he founded the Software Freedom Law Center.
Moglen is closely involved with the Free Software Foundation, serving as general counsel since 1994 and board member from 2000 to 2007. As counsel, Moglen was charged with enforcing the GNU General Public License (GPL) on behalf of the FSF,[4] and later became heavily involved with drafting version 3 of the GPL. On April 23, 2007 he announced in a blog post that he would be stepping down from the board of directors of the Free Software Foundation. Moglen stated that after the GPLv3 Discussion Draft 3 had been released, he wanted to devote more time to writing, teaching, and the Software Freedom Law Center.