Faculty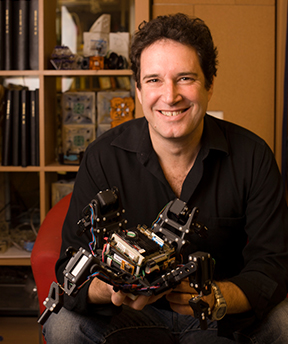 Hod Lipson
The Fu Foundation School of Engineering and Applied Science

James and Sally Scapa Professor of Innovation in the Department of Mechanical Engineering
Center Affiliations
Hod Lipson is a roboticist who works in the areas of artificial intelligence and digital manufacturing. He and his students love designing and building robots that do what you'd least expect robots to do: Self replicate, self-reflect, ask questions, and even be creative.
Hod's research asks questions such as: Can robots ultimately design and make other robots? Can machines be curious and creative? Will robots ever be truly self-aware? Answers to these questions can help illuminate life's big mysteries.
An award-winning researcher, teacher, and communicator, Lipson enjoys sharing the beauty of robotics though his books, essays, public lectures, and radio and television appearances. ​Hod is a professor of Mechanical Engineering at Columbia University, where he directs the Creative Machines Lab, which pioneers new ways to make machines that create, and machines that are creative.