Poster & Demo Application: Data Science Day 2023
Deadline: Monday, March 27, 2023 (11:59 PM ET)
The Data Science Day 2023 Poster & Demo Session will be held on Wednesday, April 19 at Columbia's Alfred Lerner Hall.
We encourage members of the Columbia University community to submit a poster or demonstration for inclusion at DSI's flagship annual event. The session is a great opportunity to network and receive feedback from senior academic, industry, and government representatives. We anticipate 500+ guests to attend Data Science Day and explore Columbia's research.
APPLICATION FORM HERE
---
Timeline & Location
Application Deadline: Monday, March 27, 2023 (11:59 PM ET)
Notice of Acceptance: Wednesday, April 5 – Monday, April 10
Confirmation and Registration Deadline: by Monday, April 10. If selected, your team will receive complimentary admission to Data Science Day. You must confirm your participation by registering with the provided code by this deadline.
Deadline to have poster printed: Monday, April 17
Event Date: Wednesday, April 19, 2023
Event Location: In-Person only at Alfred Lerner Hall
Alfred Lerner Hall is located on the Columbia University Morningside campus. You will check-in at main registration through the doors at the Broadway entrance. Address: 2920 Broadway, New York, NY 10027
At least one person from your team should attend between 1:00 PM – 5:00 PM ET to represent your project.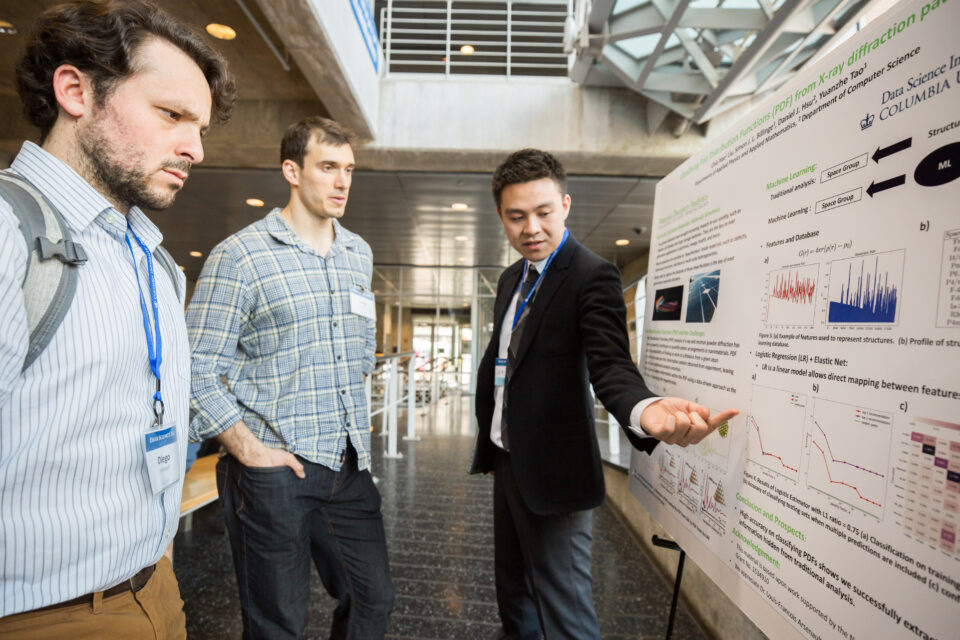 ---
Eligibility
Members of the Columbia University community are welcome to submit research to Data Science Day. This includes faculty members and affiliated researchers, currently enrolled undergraduate and graduate students, PhD candidates, and postdoctoral researchers. Please indicate your Columbia UNI when applying.
APPLICATION FORM HERE
---
Additional Information
Data Science Day 2023 will accept the below formats:
Research Posters
Table-Based Demonstrations (such as projects displayed on laptops or monitors). Please note that space is limited, so please submit demo applications early!
Printing and Mounting:
DSI will not print your poster. Please plan to have your poster printed.
DSI will provide foam board in 20×30 and 30×40 inch sizes. If you need your poster to be a different size, please plan to bring your own foam board to mount your poster.
DSI will provide thumb tacks and easels.
For demonstrations, please plan to bring your own laptop to exhibit your research.
Review Process: Applications will be reviewed by the Chairs of DSI Research Centers. You will receive a notice of acceptance following the review process.
Poster Template: You are welcome to download this slide template to format your poster. Using this template is not required.
Please name your poster PDF file (using the team lead's name):
FIRSTNAME-LASTNAME-DataScienceDay-2023.pdf
---
The application *requires* the following items:
A PDF file upload of your poster OR 1-pager that describes your demo
A short abstract
All team member information (Name, Title, School, Department)
Your foam board sizing to mount the poster
Select the DSI Research Center or Working Group with which your work may be affiliated. This may impact the location of your research during the session.
The application form will not save your progress. Please prepare all of your materials and responses before filling out the form.
---
Questions?
Please contact Alexis Avedisian, DSI Assistant Director of Events and Special Programs at aa4598@columbia.edu with any questions or issues with the application form!
APPLICATION FORM HERE