Events
iCubed Seminar: Bharti Rai, Novartis
Thursday, September 23, 2021
3:00 pm - 4:00 pm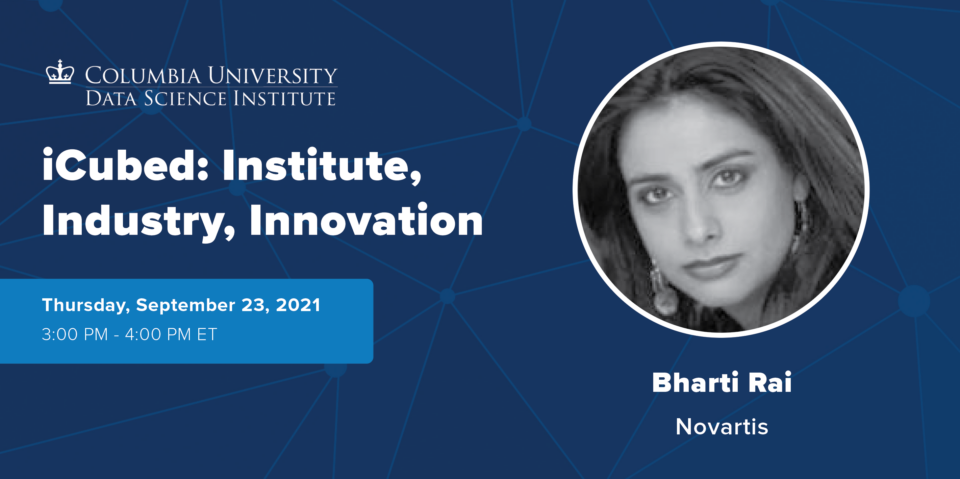 iCubed (Institute, Industry, Innovation) seminars invite DSI Industry Affiliates to give technical talks on work going on in their domain. Join to learn about real-world uses of data science and opportunities with Industry Affiliates.
---
Guest Speakers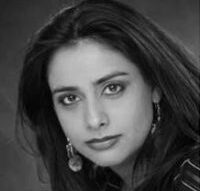 Bharti Rai, VP Commercial Operations/Effectiveness, Insights and Analytics, US Pharma Executive Committee Member, Novartis
This event included data science lightning talks from:
Anik Bhattacharya, Director of Data Science & AI Innovation
Anuvrat Chaturvedi, Associate Director of Data Science AI & Innovation
Moderated By: Jessica Rodriguez, Industry Engagement and Outreach Officer, The Data Science Institute
---
Details & Recording
Thursday, September 23 (3:00 PM – 4:00 PM ET) – Virtual
---
Talk Information & Biography
Analytics Functions in Pharma: Decision Sciences to Drive Customer Engagement, Next Best Action, and Predictive Targeting
Bharti Rai is Vice President of Commercial Acceleration at Novartis Pharmaceuticals and a member of the US Pharmaceuticals Executive Committee. She is an accomplished leader with over 20 years of experience in Pharma and Management Consulting.
Prior to joining Novartis, Bharti spent 10 years at Bayer Healthcare where she held roles of increasing responsibility across a versatile set of functions including Strategy, Process Re-Engineering, Digital Health, CRM, Commercial Operations and served as the Chief Data Officer. Before Bayer, she was at Deloitte Consulting for 8 years in the Public Sector practice, leading multi-million dollar transformational engagements and business development.
She has been at the forefront of business transformations to champion data-driven decision making and customer centricity. She is passionate about the intersection of commercial operations, analytics & digital and has a highly dynamic and collaborative leadership style to bring about large-scale change.
Bharti holds a MS in Public Policy and Management from Carnegie Mellon University in Pittsburgh, PA and a BA in Economics from the University of Bombay in Mumbai, India.