Machine Learning in Science & Engineering – MLSE 2020 – was held virtually on December 14 – 15. Through keynotes, conversations, demonstrations, and networking, this two day conference explored how artificial intelligence and machine learning can help solve emerging challenges. MLSE 2020 convened 11 dedicated tracks, each with their own programs, speakers, and participating research. These tracks highlighted new innovations from a diverse range of disciplines and practices.
MLSE 2020 brought together 1,300+ attendees from academia, government, and industry, as well as 100+ speakers and dozens of research teams from national and international universities and organizations. The conference was hosted by The Data Science Institute at Columbia University, and was supported by an NSF TRIPODS+X award from the National Science Foundation.
MLSE 2020 marks the third annual MLSE conference. In 2017, an internal symposium on machine learning in science and engineering was held at Carnegie Mellon University (CMU) to identify ways in which these computational tools can advance diversity in several fields. Based on the strong response, the first open MLSE conference was held in 2018 at the CMU campus in Pittsburgh in partnership with Georgia Tech. The second MLSE, also supported by an NSF TRIPODS+X award, was held at Georgia Tech in 2019 in conjunction with CMU and Columbia University.
Columbia University expanded the scope of the previous conferences by adding:
New tracks in science and engineering fields, such as biology, civil engineering, earth sciences, neuroscience, and transportation.
A track on the foundations of machine learning, driven by science and engineering data.
A track on the design of computational systems, from the hardware layer (CPUs, GPUs, TPUS, FPGAs) through the software stack, that focus on data-driven science and engineering.
MLSE 2020 Keynote Speakers included:
Cynthia Rudin, Professor of Computer Science, Electrical and Computer Engineering, and Statistical Science, Duke University
Barbara Engelhardt, Associate Professor, Department of Computer Science, Princeton University
William Dally, Chief Scientist & Senior VP of Research, Nvidia; Professor-Research, Computer Science & Electrical Engineering, Stanford University
MLSE 2020 Conference Chairs:
Jeannette M. Wing, Avanessians Director of the Data Science Institute and Professor of Computer Science, Columbia University
Qiang Du, Fu Foundation Professor of Applied Mathematics, Department of Applied Physics and Applied Mathematics, Columbia Engineering (SEAS)
A special thank you to prior MLSE Conference Chairs:
Dana Randall, Co-Executive Director of the Institute for Data Engineering and Science, Georgia Tech
Newell Washburn, Associate Professor of Chemistry and Biomedical Engineering, Carnegie Mellon University
---
Tracks, Track Chairs, and Agenda
Astronomy, Astrophysics, and Physics
Szabolcs Marka, Walter O. LeCroy, Jr. Professor of Physics, Department of Physics, Columbia University
David Kipping, Assistant Professor, Astronomy, Department of Astronomy, Columbia University
Zsuzsanna Marka, Associate Research Scientist, Department of Astronomy, Columbia University
Melissa Ness, Assistant Professor, Astronomy, Department of Astronomy, Columbia University
Biology
Itsik Pe'er , Associate Professor, Department of Computer Science, Columbia Engineering
Maria Chikina, Assistant Professor, Department of Computational and Systems Biology, University of Pittsburgh School of Medicine
Chemistry, Chemical Engineering, and Materials Science
Sanat K. Kumar, Bykhovsky Professor of Chemical Engineering, Columbia Engineering
Simon Billinge, Professor, Materials Science and Applied Physics and Applied Mathematics, Columbia Engineering
Yevgeny Rakita, Postdoctoral Research Scientist, Data Science Institute, Columbia University
Computing Systems
Martha Kim, Associate Professor, Department of Computer Science, Columbia Engineering
Sarah Bird, Principal Program Manager, Emerging Technology and Research Strategy Lead, Responsible AI Lead, Azure AI, Microsoft
Earth and Environmental Sciences
Pierre Gentine, Associate Professor, Earth and Environmental Engineering, Columbia Engineering
Laure Zanna, Professor, Center for Atmosphere Ocean Science, Department of Mathematics, Courant Institute, New York University
Health Sciences
Olena Mamykina, Florence Irving Assistant Professor of Biomedical Informatics, Department of Biomedical Informatics, Columbia University
Adler Perotte, Assistant Professor, Department of Biomedical Informatics, Columbia University
Mechanical Engineering, Engineering Mechanics, and Civil Engineering
Steve WaiChing Sun, Associate Professor, Civil Engineering and Engineering Mechanics, Columbia Engineering
Krishna Garikipati, Professor, Mechanical Engineering and Mathematics, University of Michigan
Methods and Algorithms
John Paisley, Associate Professor, Department of Electrical Engineering, Columbia Engineering
John Wright, Associate Professor, Department of Electrical Engineering, Columbia Engineering
Alexandr Andoni, Associate Professor of Computer Science, Columbia Engineering
Neuroscience
Paul Sajda, Professor of Biomedical Engineering; Professor of Electrical Engineering; and Professor of Radiology (Physics); Columbia Engineering
Quantum
Andrew J. Millis, Professor of Physics, Department of Physics, Columbia University
Hanhee Paik, Research Staff Member, Experimental Quantum Computing, IBM T J Watson Research Center
Transportation
Sharon (Xuan) Di, Assistant Professor of Civil Engineering and Engineering Mechanics, Columbia Engineering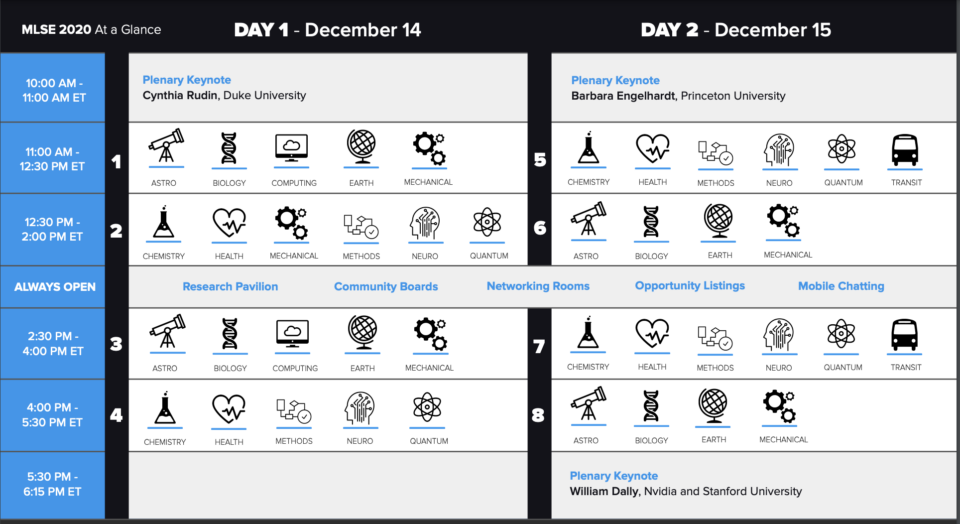 ---
Sponsors
---
Speakers
All titles and affiliations accurate to time of event (December 2020)
Adam Wheeler, Graduate Student in Astronomy, Department of Astronomy, Columbia University
Addis Kidane, Associate Professor, Mechanical Engineering, College of Engineering and Computing, University of South Carolina
Aditi Jha, PhD Candidate with focus in ‪Computational Neuroscience‬, Machine learning‬, ‪Artificial Intelligence‬, and Cognitive Science‬, Princeton University
Alex Gorodetsky, Assistant Professor, Aerospace Engineering, University of Michigan
Alex Hexemer, Senior Scientist and Computing Program Lead Computing, Advanced Light Source, Lawrence Berkeley National Laboratory
Aleyda Trevino, Graduate Student, Department of Earth and Planetary Sciences, Harvard University
Andre E. Vellwock, PhD Candidate, Department of Mechanical Engineering, The Hong Kong Polytechnic University, The Hong Kong Polytechnic University
Andrew Ferguson, Associate Professor of Molecular Engineering; and Deputy Dean of Equity, Diversity, and Inclusion, Pritzker School of Molecular Engineering, University of Chicago
Andrew Gordon Wilson, Assistant Professor, Courant Institute of Mathematical Sciences and Center for Data Science, New York University
Anqi Wu, Postdoctoral Research Scientist, Mortimer B. Zuckerman Mind Brain Behavior Institute, Zuckerman Institute, Columbia University
Anshul Kundaje, Assistant Professor, Genetics and Computer Science, Stanford University
Anushri Arora, Masters Student, Department of Computer Science, Columbia University
Arunesh Mittal, PhD Candidate with focus in Machine Learning, Columbia University
Assad Oberai, Professor in the Aerospace and Mechanical Engineering Department, Viterbi School of Engineering, USC
Atul Butte, Priscilla Chan and Mark Zuckerberg Distinguished Professor; and Inaugural Director, Bakar Computational Health Sciences Institute, School of Medicine, University of California, San Francisco
Aviv Landau, Associate Director, SAFElab; and Postdoctoral Research Scientist, The Data Science Institute, Columbia University
Barbara Jones, Researcher in Quantum Computing Applications, IBM Research
Barry C. Barish, Ronald and Maxine Linde Professor of Physics, Emeritus, The Division of Physics, Mathematics and Astronomy, Caltech
Craig Connolly, Postdoctoral Researcher, Environmental Health Sciences, Lamont-Doherty Earth Observatory, Columbia University
Danielle Bassett, J. Peter Skirkanich Professor of Bioengineering and Electrical and Systems Engineering, University of Pennsylvania (Penn Engineering)
Daniel Tamayo, NASA Hubble/Sagan and Lyman Spitzer, Jr. Postdoctoral Fellow, Princeton University
Dario Gil, Director, IBM Research
David Kueh, Program Manager, Federal Highway Administration. U.S. Department of Transportation
David Sontag, Associate Professor, Medical Engineering, Electrical Engineering and Computer Science, MIT
Dries Sels, Assistant Professor of Physics, Arts & Science, New York University; and Associate Researcher, Center for Computational Quantum Physics (CCQ), Flatiron Institute
Elias Bareinboim, Associate Professor, Department of Computer Science, Columbia University
Elizabeth Barnes, Associate Professor, Department of Atmospheric Science, Colorado State University
Emily Sandford, Research Fellow at Gonville & Caius College, University of Cambridge
Emma Lejeune, Assistant Professor, Mechanical Engineering, Boston University
Eric C. Cyr, Principal Member of the Technical Staff, Sandia National Laboratories
Eric Darve, Professor, Mechanical Engineering, Stanford University
Eun-Ah Kim, Professor, Department of Physics, Cornell University
Florence d'Alché-Buc, Full Professor, Télécom Paris, Institut Polytechnique de Paris
Gabriele Vajente, Research Scientist, Laser Interferometer Gravitational-Wave Observatory (LIGO) Lab, Department of Physics, Caltech
Galen McKinley, Professor of Earth and Environmental Sciences, Columbia University and the Lamont Doherty Earth Observatory
George Karniadakis, Charles Pitts Robinson and John Palmer Barstow Professor of Applied Mathematics, Brown University; and Research Scientist, MIT
Georgia Karagiorgi, Assistant Professor of Physics; and Member, DSI Computing Systems Center for Data Driven Science, Columbia University
Gerbrand Ceder, Professor, Department of Materials Science and Engineering, University of California, Berkeley
Gustau Camps-Valls, Full Professor, Image Processing Laboratory, Universitat de València
Hae Young Noh, Associate Professor, Department of Civil and Environmental Engineering, Stanford University
Hani Mahmassani, Professor of Civil and Environmental and (by courtesy) Industrial Engineering and Management Sciences Engineering, Northwestern University
Henry Yuen, Assistant Professor of Computer Science and Mathematics, University of Toronto; and (incoming faculty) Computer Science Department at Columbia University
Hugh Osborn, Postdoctoral Researcher, Kavli Institute for Astrophysics, MIT
Irina Rish, Associate Professor, Computer Science and Operations Research Department, Université de Montréal
J. Emmanuel Johnson, Researcher & PhD Candidate, University of Valencia
Jade Powell, Posdoctoral Researcher (Gravitational Waves, Data Science), Swinburne University of Technology, Australia
Javad Shabani, Assistant Professor of Physics, Arts & Science, New York University
Jeff Johnson, Research Engineer, Facebook AI Research
Jennifer M. Hayes, Graduate Student (Ph.D. program), College of Pharmacy, Department of Pharmaceutical Sciences, Howard University
Jing Gao, Assistant Professor of Geospatial Data Science, Department of Geography, University of Delaware
Jiun-Shyan (JS) Chen, William Prager Chair Professor, Structural Engineering Department Professor, Mechanical and Aerospace Engineering Department Director, Center for Extreme Events Research, UCSD
John Paisley, Associate Professor, Department of Electrical Engineering, Columbia Engineering
John Wright, Associate Professor, Department of Electrical Engineering, Columbia Engineering
Jorge A. Lava, Professor, Transportation Systems Engineering, School of Civil and Environmental Engineering, Georgia Tech
Josh Bloom, Professor of Astronomy and Chair, Department of Astronomy, University of California, Berkeley
Julien Grand-Clement, PhD Candidate, Industrial Engineering and Operations Research, Columbia Engineering
Julius Busecke, Associate Research Scientist, Lamont-Doherty Earth Observatory, Columbia University
Katharine Hyatt, Postdoctoral Scholar, Center for Computational Quantum Physics, Flatiron Institute
Katherine Heller, Assistant Professor, Department of Statistical Science, Duke University
Kathy Li, PhD Candidate in Applied Math, Columbia University
Keith A. Brown, Assistant Professor (ME, MSE, Physics), Department of Mechanical Engineering, Boston University
Krishna Garikipati, Professor, Mechanical Engineering and Mathematics, University of Michigan
Krishna Rajan, Erich Bloch Chair, Empire Innovation Professor, Department of Materials Design and Innovation, University at Buffalo
Maria Chikina, Assistant Professor, Department of Computational and Systems Biology, University of Pittsburgh School of Medicine
Markus Buehler, Jerry McAfee (1940) Professor in Engineering, MIT
Martin L. Green, Leader, Materials for Energy and Sustainable Development Group, National Institute of Standards and Technology (NIST)
Maryam Shanechi, Andrew and Erna Viterbi Early Career Chair; and Assistant Professor of Electrical and Computer Engineering and Biomedical Engineering, University of Southern California
Mercè Crosas, University Research Data Management Officer, Harvard University Information Technology (HUIT); and Chief Data Science and Technology Officer, Harvard Institute for Quantitative Social Science
Mers Sameki, Senior Technical Program Manager (Responsible AI Products), Microsoft
Miles Stoudenmire, Research Scientist, Center for Computational Quantum Physics (CCQ), Flatiron Institute
Mohammed AlQuraishi, Assistant Professor of Systems Biology, Columbia University
Monika Filipovska, Monika Filipovska, Graduate Research Assistant, Northwestern University
Morgan Fouesneau, Postdoctoral Fellow, Max-Planck Institute for Astronomy (MPIA, Heidelberg)
Myles Ingram, Senior Research Analyst, Columbia University Irving Medical Center
Nathaniel Trask, Senior Member of the Technical Staff, Sandia National Laboratories
Nidhi Seethapathi, Postdoctoral Researcher, Bioengineering and Neuroscience, University of Pennsylvania
Nongnuch Artrith, Research Scientist, Department of Chemical Engineering, Columbia University
Paul Sajda, Professor of Biomedical Engineering; Professor of Electrical Engineering; and Professor of Radiology (Physics); Columbia Engineering
Pedram Hassanzadeh, Assistant Professor of Mechanical Engineering, Rice University
Petar Jurcevic, Research Staff Member (Quantum), IBM
Peter Mattson, General Chair, MLPerf
Po-Ling Loh, Associate Professor, Department of Statistics, University of Wisconsin – Madison
Pradip Bose, Research Staff Member and Manager of Efficient and Resilient Systems, T. J. Watson Research Center, IBM
Rea Rustagi, Undergraduate Student (3rd year), Major in Applied Math, Columbia Engineering
Roger G. Ghanem, Gordon S. Marshall Professor of Engineering Technology and Professor of Civil and Environmental Engineering and Aerospace and Mechanical Engineering, Viterbi School of Engineering, USC
Romy Lorenz, Sir Henry Wellcome Postdoctoral Fellow, University of Cambridge, Stanford University, and the Max Planck Institute for Human Cognitive & Brain Sciences
Rose Yu, Assistant Professor, Department of Computer Science and Engineering, UC San Diego
Rutuja Gurav, PhD Candidate in Computer Science, University of California Riverside
Sahika Genc, Principal Applied Scientist, Amazon Web Services (AWS)
Samory Kpotufe, Associate Professor, Department of Statistics, Columbia University
Sebastian Will, Assistant Professor of Physics, Department of Physics, Columbia University
Sergei V. Kalinin, Corporate Fellow, The Center for Nanophase Materials Sciences, Oak Ridge National Laboratory
Shantanu Bailoor, PhD Candidate in the Flow Physics and Computation Lab, Johns Hopkins University
Sophia Shao, Assistant Professor, University of California, Berkeley
Sridevi V. Sarma, Associate Professor, Department of Biomedical Engineering; and Vice Dean for Graduate Education, Whiting School of Engineering, Johns Hopkins
Stephen Smith, Research Professor, The Robotics Institute, Carnegie Mellon University
Tai-Danae Bradley, Postdoc at X, the Moonshot Factory (formerly Google X); and a recent Mathematics PhD Graduate, CUNY Graduate Center
Tal Golan, Postdoctoral Research Scientist, Columbia University
Tamara Broderick, Associate Professor, MIT
WaiChing (Steve) Sun, Associate Professor, Civil Engineering and Engineering Mechanics, Columbia Engineering
Wing K. Liu, Walter P. Murphy Professor of Mechanical Engineering & Civil and Environmental Engineering and (by courtesy) Materials Science and Engineering, Northwestern University
Xueqing Li, PhD Candidate, Bioengineering and Biomedical Engineering, Columbia University
Xun Huan, Assistant Professor, Mechanical Engineering, Michigan Institute for Data Science, University of Michigan
Yi-Ming Qin, PhD Student, Environmental Science and Engineering, Harvard University
Yoo-Geun Ham, Associate Professor, Chonnam National University (South Korea)
Yudi Wu, PhD Candidate, College of Engineering, Florida Agricultural and Mechanical University
Yueyue Fan, Program Director, National Science Foundation (NSF)
Zhiwei (Tony) Qin, Principal Research Scientist, Director of AI Research, DiDi Research America
Zoran Kostic, Professor of Professional Practice, Department of Electrical Engineering, Columbia Engineering
Zoë Ashwood, PhD Candidate, Computer Science and Neuroscience, Princeton University