Events
Spring 2022 Capstone Presentations
Tuesday, May 3, 2022
2:00 pm - 5:00 pm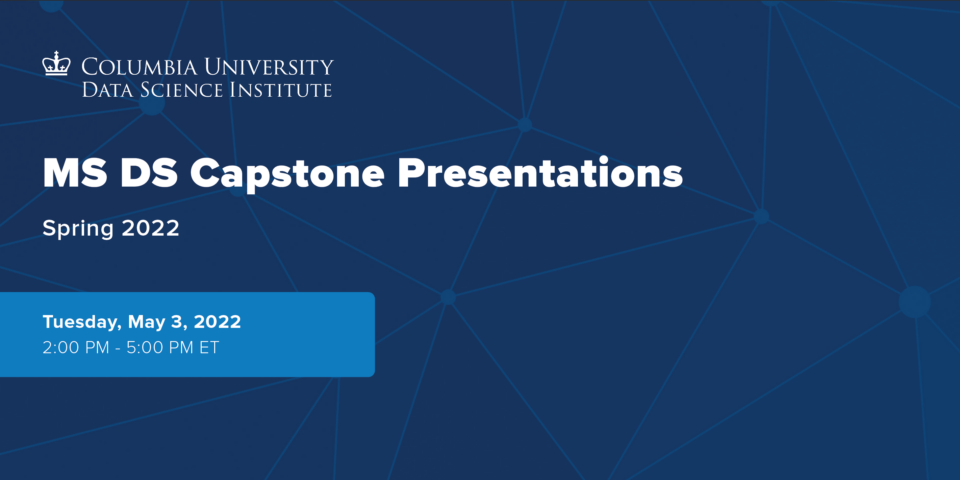 About
The Capstone course provides a unique opportunity for students in the M.S. in Data Science program to apply their knowledge of the foundations, theory and methods of data science to address data driven problems in industry and government. In this course, student teams work with representatives from DSI Industry Affiliate companies and Columbia faculty on semester-length data science projects. The resulting projects synthesize the statistical, computational, engineering and social challenges involved in solving complex real-world problems.
Join our event to explore the projects, see demos, and meet with the participating students and mentors. Find project themes and companies below.
---
Event Date & Time
Tuesday, May 3 (2:00 PM – 5:00 PM ET) — VIRTUAL
DSI Industry Affiliates have access to Capstone projects following the event. Please reach out to datascience@columbia.edu with any questions about the Capstone program.
---
Agenda
2:00 PM: Join the Event. The event will be held on Gatherly, an interactive virtual platform where guests can walk around and meet new people, just like in real life. Attendees can navigate Gatherly floors, designed based on Capstone project topic area, where students will stand by their project to give short presentations and answer questions.
2:05 PM: Introduction from Capstone Faculty. Learn more about the Capstone program and its impact across the Data Science Institute and Columbia University at large.
2:10 PM: Presentations. Presentations will be open until 5:00 PM ET; guests are welcome to float in and out of Gatherly floors to see all of the demos, or focus on exploring projects within areas of interest.
FLOOR 1: Geospatial and ML Methodology
FLOOR 2: AI-Computer Vision, AI-Speech, Finance, and Time Series
FLOOR 3: Natural Language Processing (NLP)
5:00 PM: Event ends.
---
Navigating the Event
Welcome Floor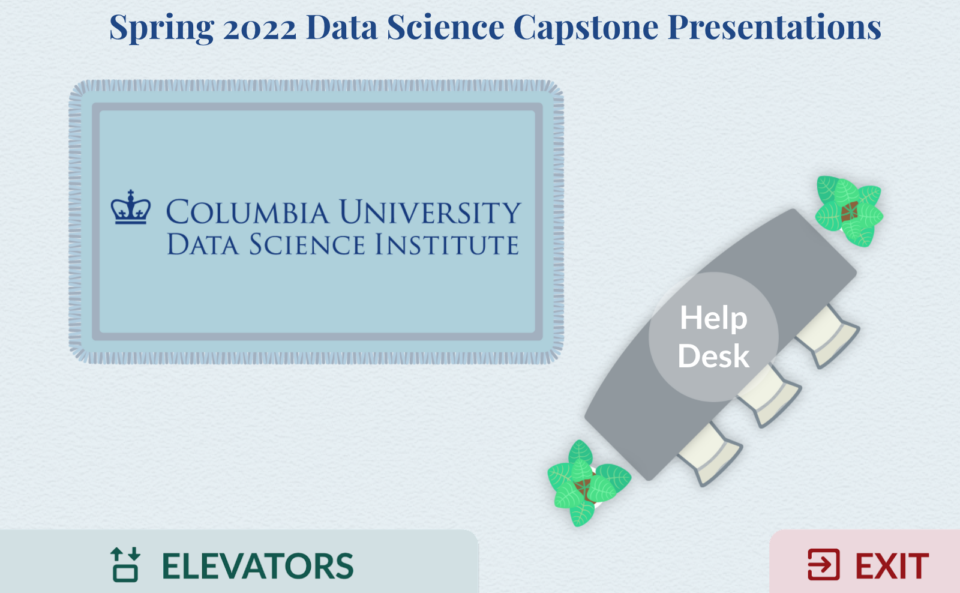 Access the DSI help desk, where representatives of our student services team will be available to assist you. Move your mouse to the elevators, where you can head to the floors to see the student projects.
FLOOR 1: Geospatial and ML Methodology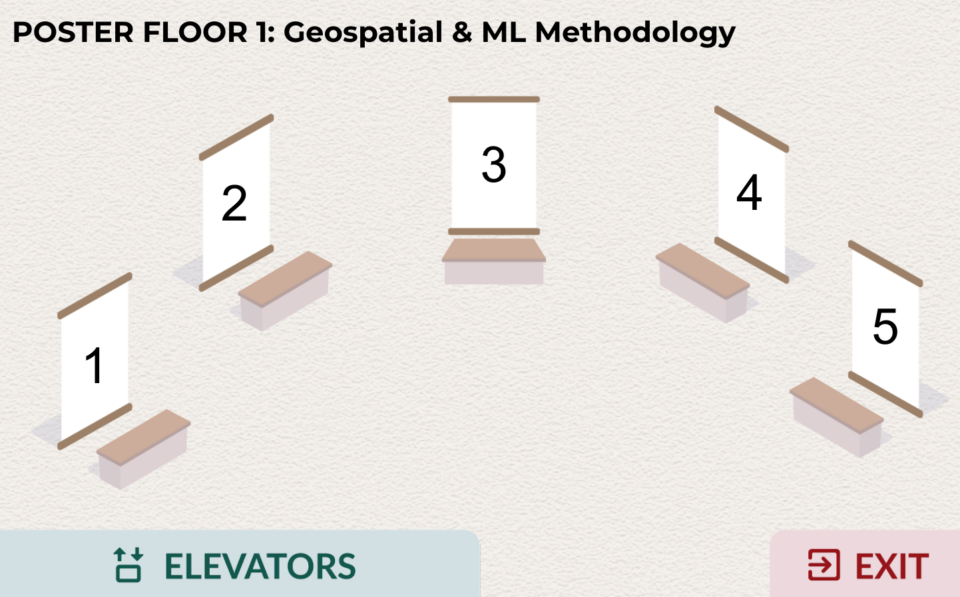 POSTER 1: Who Gets Access to the Internet?
Students: Dashansh Prajapati (dp3085), Santos Hernandez (smh2283), Kevia Q ( kq2153), Brian Hernandez (bmh2168)
Mentor: Henning Schulzrinne, Columbia University
Category: Geospatial
POSTER 2: Visualizing Fleet Data for Operational Change
Students: Xiaoyi Zhang (xz2956), Wanxiao Hong (wh2493), Guangyu Wu (gw2415)
Mentors: Rebecca Behle, Fleet Services, New York City Department of Environmental Protection; and Sharon Di, Columbia University
Category: Geospatial
POSTER 3: ML Techniques for High Precision and High Explainability
Students: Vincent Chang (sc4755), Brian Mao (bm3024), Chris Petty (cp3209), Yuan Wang (yw3585)
Mentos: Harsha Aeron, General Electric; and Henry Lam, Columbia University
Category: ML Methodology
POSTER 4: Transfer Learning for Control
Students: Aaron Aknin (ama2351), Raphaël Adda (rea2157), Saisamrit Surbehera (ss6365)
Mentor: Alvaro Velasquez, Air Force Research Laboratory
Category: ML Methodology
POSTER 5: Quantifying Contributions of Different Features to Unfairness in AI
Students: Xin Ye (xy2509), Yue Xiong (yx2697), Panyu Gao (pg2676), Liyi Zhang (lz2574), Yuzhao Pan (yp2578)
Mentors: Sanghamitra Dutta, JPMorgan Chase & Co.; and Rachel Cummings, Columbia University
Category: ML Methodology
FLOOR 2: AI-Computer Vision, AI-Speech, Finance, and Time Series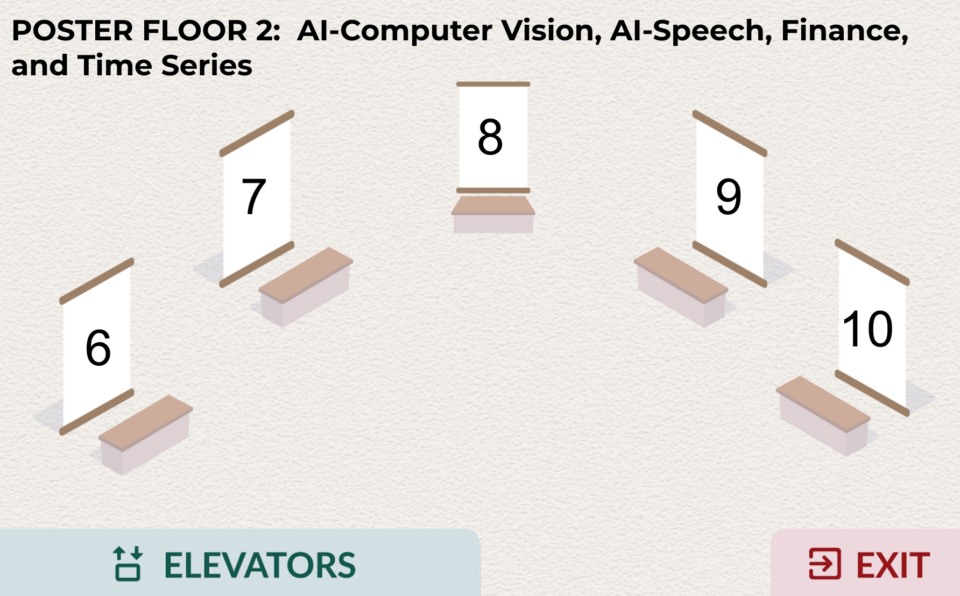 POSTER 6: Table Extraction via Eye Gaze Tracking
Students: Yijia Jin (yj2682), Yibai Liu (yl4616), Yeqi Zhang (yz3975), Shihang Wang (sw3275), Yinqiu Feng (yf2579)
Mentor: Nonie Thomas, JPMorgan Chase & Co.
Category: AI-Computer Vision
POSTER 7: Building Speech Emotion Recognition Systems for Low Resourced Languages
Students: Zihan Wang (zw2782), Haifeng Lan (hl3487), Kehao Guo (kg2937), Qi Meng (qm2162), Xinrui Zhang (xz2976)
Mentor: Akshat Gupta, JPMorgan Chase & Co.
Category: AI-Speech
POSTER 8: Exploring Equity Markets Closing Auction
Students: Jiaxi Zhou (jz3280), Haoxiong Su (hs3228), Tianchun Huang (th2884), Hang Luo (hl3434), Yiran Shu (ys3373)
Mentor: Lada Kyj, Vanguard
Category: Finance
POSTER 9: Hierarchical Forecasting for External Cost
Students: Zhengyi Chen (zc2549), Shiyue Liu (sl4835), Yaojia Ye (yy3084), Anni Chen (ac4779), Qixiao He (qh2232)
Mentors: Patricia Vega, Novartis; and Vushal Misra, Columbia University
Category: Time Series
POSTER 10: Exploring and Predicting Loss of Exclusivity and its Business Impact
Students: Tushar Agrawal (tsa2131), Saloni Gupta Ajay Kumar (sg3910), Moulay-Zaidane Draidia (mad2314), Smarth Gupta (sg3868)
Mentor: Sarah Asio, Johnson & Johnson
Category: Time Series
FLOOR 3: Natural Language Processing (NLP)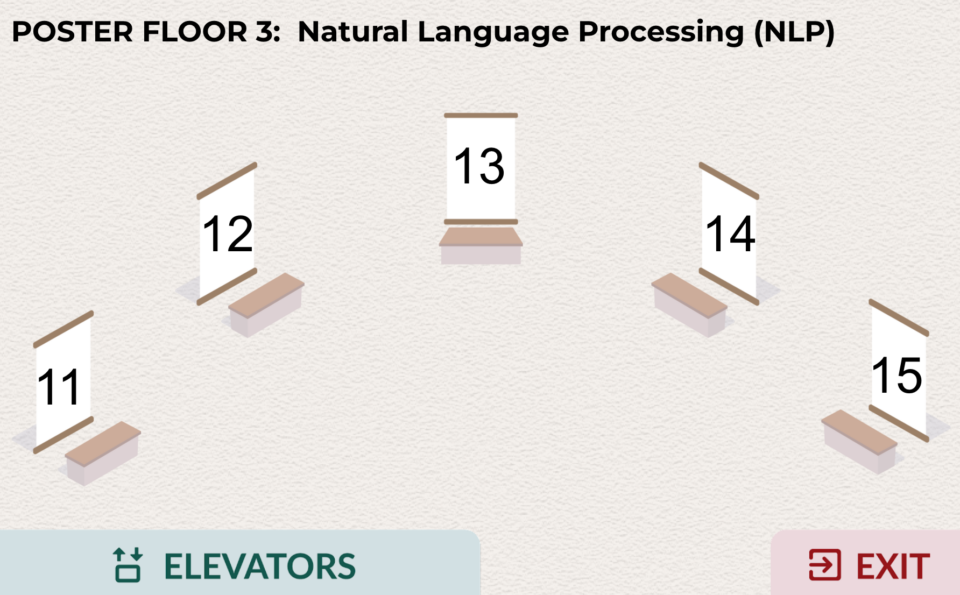 POSTER 11: Topic Directionality in Financial Statements
Students: Jingyuan Wang (jw4000), Xuan He (xh2465), Weiwei Jiang (wj2312), Boquan Sun (bs3232), Hanqin Zhou (hz2699)
Mentor: Steven Agajanian, PIMCO
Category: NLP
POSTER 12: Social Media Product Quality Insights Generation
Students: Ying Bi (yb2500), Yiyuan Xu (yx2632), Yuao Zhao (yz3540), Zihao Liu (zl2986), Gaoge Liu (gl2701)
Mentors: Korey Phillips; Mathida Chuk; and Tyler Littlefield, Johnson & Johnson
Category: NLP
POSTER 13: Performing NLP Tasks on Unstructured Financial Documents
Students: Heng Kan (hk312), Huaqing Fang (hf2431), Pengyu Zou (pz2272), Xiaorui Qin (xq2209), Ziyu Fang (zf2253)
Mentor: Simerjot Kaur, JPMorgan Chase & Co.
Category: NLP
POSTER 14: Interest Diversity and Brokerage in Networks: A Case Study of Twitter
Students: Xinyi Liu (xl3057), Eugenio Beaufrand (eab2271), Zhuoyan Ma (zm2355), Yunshan An (ya2367), Rao Tetal (rht2115)
Mentor: Sandra Matz, Columbia University Graduate School of Business
Category: NLP
POSTER 15: Data-driven Competitor Product Identification and Ranking
Students: Chenhui Mao (cm4054), Nuanyu Shou (ns3492), Mingyan Zou (mz2828), Xingcheng Rong(xr2150), Jiachen Huang (jh4336)
Mentor: Syed Haider, Unilever
Category: NLP
---
Capstone Faculty
Sining Chen, Adjunct Professor of Industrial Engineering and Operations Research, Columbia University
Adam S. Kelleher, Adjunct Assistant Professor of Computer Science, Columbia University
Katie Jooyoung Kim (Course Assistant)