Events
The Social Dilemma: Shaping the Future of Social Media
Wednesday, October 21, 2020
5:00 pm - 6:00 pm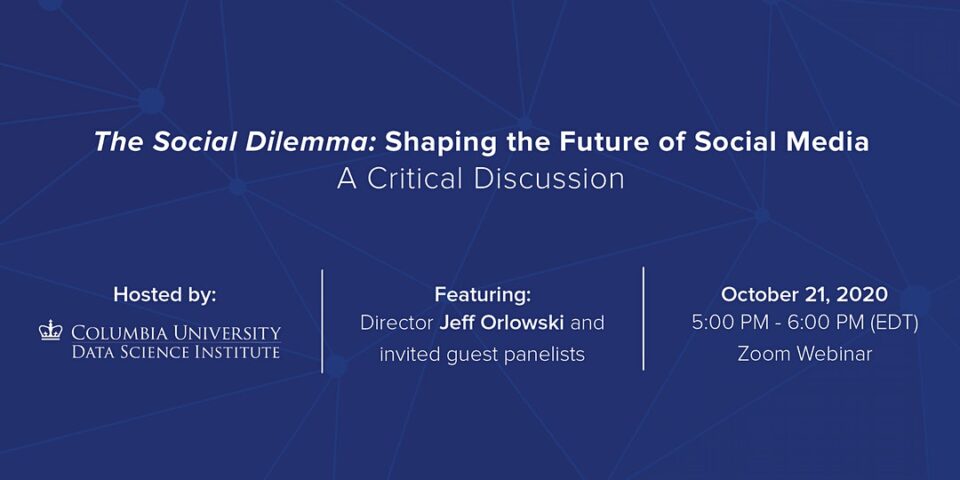 Join a critical discussion about the future of social media inspired by the film The Social Dilemma.
Speakers
Jeff Orlowski, Director, The Social Dilemma
Yaël Eisenstat, former Global Head of Elections Integrity Operations for Political Advertising, Facebook
Emily Bell, Director, Tow Center for Digital Journalism
Desmond Upton Patton, Associate Professor of Social Work; Associate Dean of Curriculum Innovation and Academic Affairs; Courtesy Appointment in Department of Sociology, Columbia School of Social Work
Details
October 21, 2020 (5:00 PM – 6:00 PM ET) – Online Event
Hosted By
DSI Data, Media & Society Center
Co-Sponsored By:
Barnard College Computer Science
Barnard College Science and Public Policy
Tow Center for Digital Journalism
The Social Dilemma: Shaping the Future of Social Media
The 2020 film The Social Dilemma paints a bleak portrait of the effect that social media is having on people around the world: increasing polarization, disinformation, election interference and even depression. Drawing on interviews with a range of experts, the film suggests that at worst, social media platforms are designed to exploit users for profit, and at best, their designers – some of them former platform employees who are featured in the film – were naive in their understanding of how these tools would affect the world.
On October 21, from 5pm – 6pm, we invite you to join a critical discussion about the future of social media inspired by the film, featuring its director, Jeff Orlowski, Yaël Eisenstat, former Global Head of Elections Integrity Operations for political advertising at Facebook, and others in a conversation moderated by Emily Bell, Director of the Tow Center for Digital Journalism. Through a frank discussion of the current state and possible futures of social media technology, this event will offer audiences a unique window into the kinds of social, political, and scientific innovations needed to reimagine and reconstruct how these platforms could meet more of the world's needs.
About the Speakers:
Filmmaker and panelist Jeff Orlowski served as director, producer, and cinematographer of the Sundance Award-Winning films, Chasing Ice and Chasing Coral. He is a two-time Emmy-Award winning filmmaker, and founder of the award-winning production company Exposure Labs. His latest film, The Social Dilemma, premiered at the 2020 Sundance Film Festival and is now streaming on Netflix.
Panelist Yaël Eisenstat is a Visiting Fellow at Cornell Tech's Digital Life Initiative, where she works on technology's effects on civil discourse and democracy and teaches a graduate course on "Tech, Media and Democracy." In 2018, she was Facebook's Global Head of Elections Integrity Operations for political ads. Previously, she spent 18 years working around the globe as a CIA officer, a national security advisor to Vice President Biden, a diplomat, a corporate social responsibility strategist at ExxonMobil, and the head of a global risk firm. Yaël works with governments, tech companies, and investors focused on the intersection of ethics, tech, and policy, including as a Researcher-in-Residence at Betalab, an early-stage cohort-based investment program with the singular goal of catalyzing startup activity around "Fixing The Internet".
Yaël has become a key voice and public advocate for transparency and accountability in tech, particularly where the real-world-consequences affect democracy and societies around the world. Her recent TED talk addresses these issues and proposes ideas for how government and society should hold the companies accountable.
Panelist Desmond Upton Patton is an Associate Professor of Social Work and the founding director of SAFElab, a member of the Data Science Institute, and a faculty affiliate of the Social Intervention Group (SIG). He holds a courtesy appointment in the department of Sociology. He is the recipient of the 2018 Deborah K. Padgett Early Career Achievement Award from the Society for Social Work Research (SSWR) and was named a 2017-2018 fellow at Harvard's Berkman Klein Center for Internet and Society.
In partnership with the Data Science Institute, he is developing an online tool for detecting aggression in social media posts. Dr. Patton's research on "internet banging" has been featured in The New York Times, the Chicago Tribune, USA Today, NPR, Boston magazine, ABC News, Nature, and Vice. It was cited in an amici curiae brief submitted to the United States Supreme Court in Elonis v. United States, which examined the interpretation of threats on social media.
Before coming to Columbia, Dr. Patton was an assistant professor at the University of Michigan School of Social Work and School of Information. He holds a BA in Anthropology and Political Science with honors from the University of North Carolina at Greensboro, an MSW from the University of Michigan School of Social Work, and a PhD in Social Service Administration from the University of Chicago.
Moderator Emily Bell is Founding Director of the Tow Center for Digital Journalism at Columbia Journalism School, and a leading thinker, commentator and strategist on digital journalism. The majority of Emily's career was spent at Guardian News and Media in London working as an award winning writer and editor both in print and online. As editor-in-chief across Guardian websites and director of digital content for Guardian News and Media, Emily led the web team in pioneering live blogging, multimedia formats, data and social media ahead, making the Guardian a recognized pioneer in the field. She is co-author of Post Industrial Journalism: Adapting to the Present (2012) with C.W. Anderson and Clay Shirky. Emily is a trustee on the board of the Scott Trust, the owners of The Guardian, a member of Columbia Journalism Review's board of overseers, an adviser to Tamedia Group in Switzerland, chair of the World Economic Forum's Global Advisory Council on social media, and a member of Poynter's National Advisory Board. She lives in New York City with her husband and children.
Co-Sponsor Logos