DSI News
Susan McGregor, Veteran Data Journalist, Named Associate Research Scholar at DSI
August 12, 2020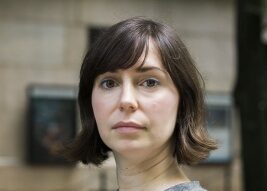 Susan McGregor, a journalist who specializes in digital security, data journalism, and information visualization, has been named an associate research scholar at the Data Science Institute (DSI) at Columbia University. She is the first person ever appointed to that position.
McGregor joins DSI from Columbia's Graduate School of Journalism, where she developed the school's data journalism curriculum and was primary academic adviser for the dual-degree program in journalism and computer science. Even before this appointment, she had strong affiliations with DSI, serving as co-chair of the Center for Data, Media and Society and as a member of the Center for Cybersecurity. Now, as associate research scholar, she intends to deepen her data-intensive journalistic research.
"This is an incredibly exciting time to do interdisciplinary research and I'm thrilled to be part of DSI's efforts to bring rigorous academic insights and methods to bear on real-world problems," she said. "I look forward to expanding my work on security and privacy issues for the journalism and media communities, while also developing accessible and inclusive approaches for teaching essential data science skills."
At DSI, she'll focus on a research project, "Cryptographic Provenance for Digital Publishing," that was recently funded by the National Science Foundation (NSF). Today, much online news lacks verifiable data about its provenance, such as who wrote and published it, what organization distributed it, and when it was published. And without that provenance, McGregor said, readers can't be sure the news originated with the stated publisher, when the content was published, or if it has been altered.
In her research, McGregor and her collaborators will use cryptography to build a system to verify the provenance of digital news content. The system includes tools to attribute digital content to its publisher, confirm its publication date, and if necessary, show its revision history. Overall, her data-intensive system will improve publisher credibility, help readers hold publishers accountable, and help archivists preserve correct digital content.
"Ultimately, the system will improve the security and trustworthiness of the online information ecosystem," she said. "It will also facilitate the creation and adoption of data technologies by publishers, mitigate security threats, and assure that the public can trust online news content."
She will also continue working on two other research projects at DSI: An effort to develop novel classifiers for detecting abusive and harassing speech targeting journalists on Twitter, and a project that uses artificial intelligence and computer vision to help journalists recognize unfamiliar political graphics when reporting in the field.
McGregor is an academic and a journalist and says her research is informed by her journalistic background. Before coming to Columbia, she was the senior programmer on the news graphics team at the Wall Street Journal, where she won awards for her data and visual journalism. She has published a range of academic papers and is the author of two forthcoming books: Information Security Essentials: A Guide for Reporters, Editors and Newsroom Leaders, a guided-tour and reference manual of information security issues and best practices for journalists, due to be published in early 2021 by Columbia University Press; and Practical Python Data Wrangling and Data Quality, scheduled to be published by O'Reilly Media in the summer 2021, which enables readers to analyze data and communicate their findings and explains how to use programming to generate compelling data stories.
McGregor's interest in data science, journalism, and visualizations grew out of her early love of science and creative media. She attended Stuyvesant High School, a specialized math and science school in New York City, but spent most of her extracurricular time pursuing theater, speech, and debate. She later earned an undergraduate degree from Harvard, where she designed her own major—Interactive Information Design—which she described as "one-third computer science, one-third cognitive psychology, and one-third digital design." She also has a master's degree in educational communication and technology from NYU.
In her new position at DSI, she will call upon her background and skills to help as many people as possible learn to use data science to enhance and communicate their ideas.
"The sheer volume of data in the world now demands new techniques and approaches to discern deep insights from it," she said. "That's what drives my interests in data journalism and data science. My goal is to develop methods to use data more effectively and increase the ability of people to use data science in their work. It's an essential task for the 21st century."
— Robert Florida