DSI News
Amazon Economist Pat Bajari Delivers Data Science Day 2021 Keynote
April 26, 2021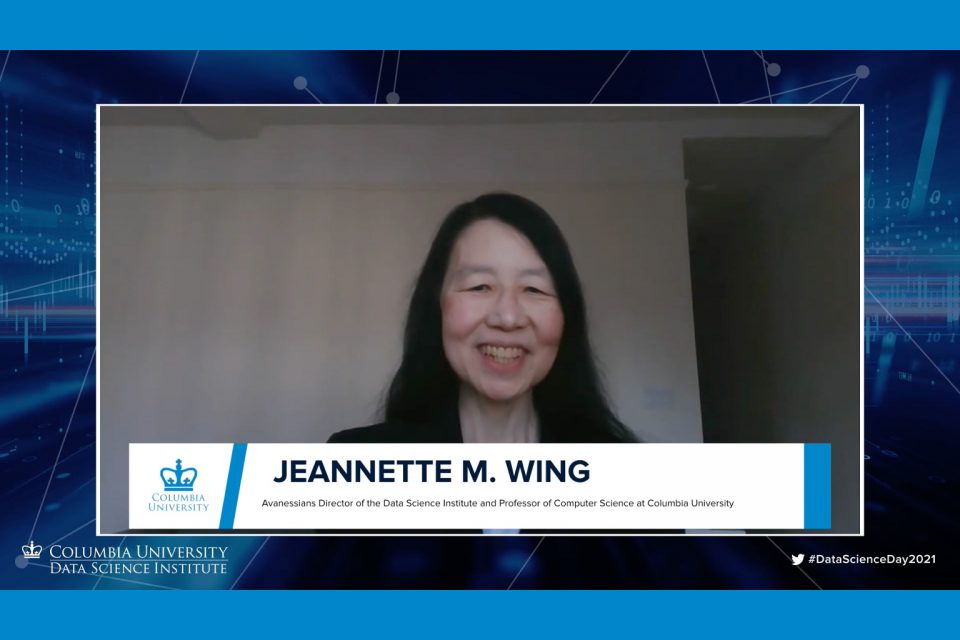 More than 1,100 participants attended the virtual edition of Data Science Day 2021 on Wednesday, April 21.

Data Science Day is the Data Science Institute at Columbia University's flagship event and an annual opportunity to showcase data-driven research, and provides a forum for innovators in academia, industry, and government to connect.
This year's keynote address on innovating with artificial intelligence was delivered by Pat Bajari, who is a chief economist at Amazon and vice president of Amazon's Core AI team. Bajari's team of software engineers and scientists in machine learning, statistics, operations research, and econometrics has helped to build scalable systems for supply chain, transportation, pricing, automated marketing, robotics, forecasting, human resources, and more.
Some of Columbia's most innovative researchers participated in two sessions of faculty-led lightning talks, which shed light on emerging opportunities for data science across many disciplines and use cases.
Courtney D. Cogburn, associate professor of social work, moderated Human + Machine: A New Hybrid World, which explored ways in which data science has become an integral part of the decision-making and optimization of countless fields, including design, B2B, and patient care. Featured faculty included:
Lydia Chilton, assistant professor of computer science — AI Tools for Design and Innovation
Oded Netzer, Arthur J. Samberg Professor of Business — Salespeople Automation: A Human-Machine Hybrid Approach
Sarah Rossetti, assistant professor of biomedical informatics and nursing — Exploiting the Signal Gain of Clinician Expertise in a Predictive Early Warning Score and CDS Tool using Nursing EHR data
Martha Kim, an associate professor of computer science, moderated Cause, Learn, Optimize, and Reason, which brought to light causation as opposed to correlation, the use of transfer learning for improving imperfect data, optimization for the improvement of graph problems, and reason to improve differential prediction. Featured faculty included:
Samory Kpotufe, associate professor of statistics — Big but Imperfect Data: Fundamental Challenges of Domain Adaptation
Clifford Stein, professor of industrial engineering, operations research and computer science — Parallel Algorithms for Massive Graphs
Melanie M. Wall, professor of biostatistics in psychiatry — Data Science as the Engine for a Learning Health Care Service System for First Episode Psychosis in Coordinated Specialty Care
Attendees also browsed more than 60 data science posters, interactive demonstrations, videos, and abstracts from Columbia faculty, researchers, and students, all of whom are building the next generation of data science methods and applications. Participating research teams were available in Zoom-based breakout rooms for Q&A and networking.
Data Science Day is made possible by the support of the Data Science Institute's Industry Affiliates Program.