Insights
DSI Researcher Explores Endometriosis Patient Experiences with New Satirical Film ENDOMIC
April 13, 2021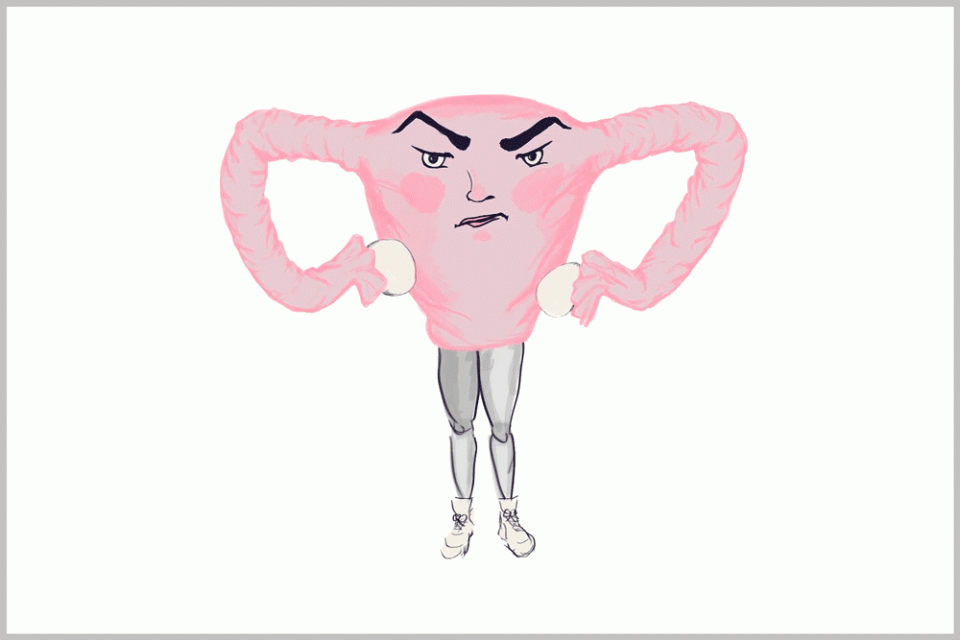 Ipek Ensari has taken a compelling and innovative approach to bring her research focus to the public by co-creating a short, satirical film called ENDOMIC about a common, yet mysterious disease: Endometriosis.
Endometriosis is an often painful disorder in which tissue similar to the inner lining of the uterus, or endometrium, grows outside on other tissues and organs, creating painful lesions and cysts. Though it affects one in 10 menstruating people, the condition remains poorly understood and under studied. Doctors cannot easily identify the disease, and it takes about seven years to diagnose. Symptoms are highly variable and treatment options are limited and extreme—pain medication, hormone therapy and surgery, none of which guarantee a cure.
Ensari, who is an associate research scientist at the Data Science Institute (DSI) at Columbia University, leverages data science to collect direct input from patients in order to advance our understanding of endometriosis and potential treatments. "At the end of the day, a physician practices evidence-based medicine," Ensari said. "I believe it's the responsibility of the researchers to do a better job of seeking out, identifying, and providing the necessary evidence. Including the patient in the knowledge generation process can aid in faster diagnosis and the development of better management options."
Ensari collaborated with Vancouver-based filmmaker Camille Hollet-French to create ENDOMIC, which is described as a "dark, sarcastic film about Endo" in late 2020. The film combines satirical storytelling, based on real content from published peer-reviewed research, with authentic patient narratives. Using a "mockumentary" format, the film weaves patient experiences in with a narrative exploration of the disease's history in the scientific literature, disparities in diagnosis and treatment, and lack of research funding. The goal of the film: "To raise public awareness about the lack of visibility and research, treatment gaps, and the disconnect between the patient's experience versus others' perception of endometriosis."
Ensari was inspired to create the film when she heard of the Imagine Science Film Festival's Symbiosis Competition, which offers teams of scientists and filmmakers small grants to produce new forms of science cinema. The Symbiosis team matched Ensari with Hollett-French and tasked them with the ambitious challenge of creating a short film, from concept to completion, in seven days. Remarkably, Hollett-French and Ensari were able to write a script and find and cast volunteer actors within 36 hours. About a third of the actors and production crew manage endometriosis in their own lives.
The film picks up on one of the Imagine Science Film Festival's key themes for the year—forced coexistence. "Many endo patients describe living with endo as something that they need to do. It's unpredictable, incurable. How do you manage it, and your mental health?" Ensari asked.
A key resource for the film was data collected during Ensari's work with Citizen Endo, a research project that aims to better understand endometriosis, and bridge the disconnect between how doctors think about the disease and what patients experience on a daily basis using direct patient input. Led by DSI affiliate and associate professor of biomedical informatics Noemie Elhadad, Citizen Endo researchers build mobile apps and other tools to collect and analyze patient health data. They work in partnership with patients to help them make sense of the data they generate.
In particular, ENDOMIC leverages insights from Ensari's recent publication, Augmenting the Clinical Data Sources for Enigmatic Diseases: A Cross-Sectional Study of Self-Tracking Data and Clinical Documentation in Endometriosis, which reports findings from Citizen Endo's Phendo app, a mobile tool to help patients track, manage, and understand endometriosis. This paper is the first to quantitatively demonstrate the variability of pain symptoms in endometriosis, enabling researchers to better understand symptoms and compare with other participants. It demonstrates how self-tracked data can enhance existing clinical sources, especially for "enigmatic diseases" like endometriosis.
"In instances where the disease is poorly documented in the traditional clinical records," Ensari explained, "direct input from the patient can augment the picture, give us a more comprehensive and accurate understanding of the condition, which can help with faster diagnosis and more effective treatments."
ENDOMIC premiered at the Slamdance Film Festival in February 2021 as part of the festival's first ever Unstoppable program for films by filmmakers with visible and non-visible disabilities. Ensari and Hollet-French are eager to share endometriosis stories with wider audiences around the world in the coming months. Their next stop is the ReelAbilities Festival in Toronto, which showcases films about disability cultures and by filmmakers and actors with disabilities.
— Karina Alexanyan, Ph.D.