DSI News
Graduating M.S. in Data Science Students Share their Columbia Experience
May 11, 2023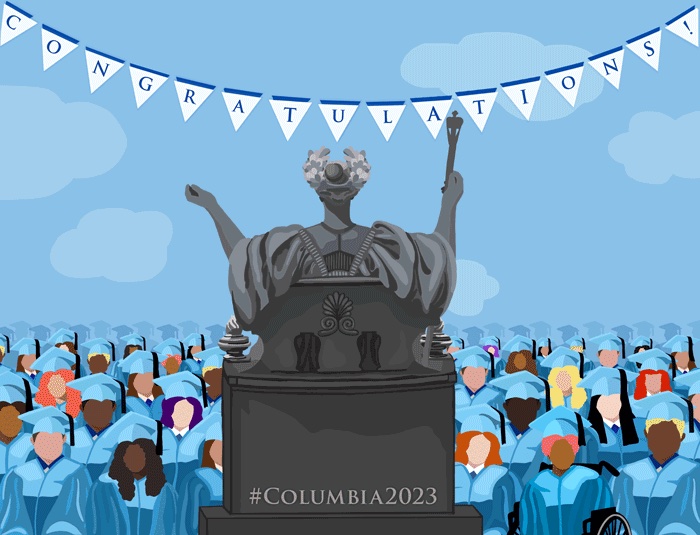 As the academic year draws to a close, DSI asked graduating M.S. in Data Science students to commemorate their many experiences here on campus. From their favorite courses and events to how they are applying lessons in their new data science positions in industry, our students share how Columbia has had a lasting impact on their personal and professional lives. More than 200 M.S in Data Science students will receive degrees in 2023; DSI congratulates all that are graduating!
What were your favorite courses and how are you applying those lessons in your work today?
Rahulraj Singh: I use almost all the courses I studied at Columbia in my everyday work. We are building machine learning-powered products in my role at Bloomberg, so a lot of things we covered in Machine Learning for Data Science and Applied ML are regularly practiced during the building and training of new models. All of these models are run on AWS, so we use a lot of concepts covered in the Computer Systems class as well.
Yunhan Jin: My favorite classes were Artificial Intelligence with Tony Dear and Applied Machine Learning (ML) with Vijay Pappu. Both courses have provided foundations for working full time, as well as seeing the changes that are happening in the world. Applied ML was very practical, as Pappu incorporated his industry work into the curriculum. In my full time work at Trepp, I regularly use concepts from the course to tackle machine learning problems. AI is such a hot topic right now with the emergence of ChatGPT — this class gave me a more in-depth perspective to look at new AI applications.
What events or activities at DSI/Columbia helped you expand your social network?
Yunhan Jin: My favorite activity at Columbia was definitely the Professional Development & Leadership (PDL) program. This program offered so many different topics, which are all presented by highly-qualified industry or academic experts. It was a very unique experience in the sense that traditional engineering programs often dive deep into a technical field, whereas PDL complements education with crucial personal and social skill sets.
Navjot Singh: I valued my time at the Engineering Graduate Student Council (EGSC) as it helped me meet folks from different engineering programs outside of the classroom. Similarly, volunteering for the University Life Events Council (ULEC) was quite nice. ULEC events span across all schools at Columbia, and the larger scale gives a different perspective.
I also enjoyed the events organized by DSI: from the poster presentations at Data Science Day to industry-partnered workshops. Volunteering in and attending them is not only a learning and networking opportunity but also allows one to get behind the scenes and contribute to the Institute. Notably, I met a then-future (present-day-current) colleague from Bloomberg, at the ML in Finance Workshop in September 2022.
What new topics or trends in data science research do you think are the most important for the next 5 years?
Rahulraj Singh: We are moving so fast with machine learning that it is really hard to predict what the next 5 years are going to look like. Based on the shifts that I am seeing in the technology industry from 3 years back when I was at Microsoft to now, at Bloomberg, I believe the general flow has moved from predictive modeling to generative modeling. A few years ago, the industry was in its learning stages, but now algorithms have matured a lot. We are moving more towards things like natural language generation, graph neural networks, large language models, federated learning, and the generation of synthetic data.
​​Shreya Verma: From an academic perspective, large language models and graph neural networks do seem to be areas of extensive research in the near future. However, over the next 5 years tailoring such trends to focus on the "Data for Good" movement seems like an important next step!
What skills did you learn from partnerships with industry that have helped shape the direction of your career?
Jiayi Wang: From my internship at BlackRock, I learned about fundamental concepts of software development and data engineering, data ingestion pipeline, and how to approach problems in a systematic way.
Rahulraj Singh: Both my internship and my Capstone project were really important for me career-wise. Interacting and working with people from the industry was helpful because it showed us how our academic knowledge can be applied to real-world problems. I learned how to "think big" and "at scale".
Yunhan Jin: I have gained valuable professional and teamwork experience in my internship at Trepp and during my Capstone project with Johnson & Johnson. Besides technical aptitude, I learned that understanding the business needs for a project and how to work in a team towards a common goal are two important aspects that will help my career.
Shreya Verma: A great experience was working with the Lamont-Doherty Earth Observatory at Columbia. The climate change projects they are working on are inspiring and I was fortunate to get hands-on experience in leveraging technology and contributing to the "Data for Good" movement. I applied deep learning models in image processing that eventually helped map out the melting rate of Antarctic Icebergs. I'm certainly more motivated to create a positive social impact by taking on similar projects in the future!
What are some words of advice for the next cohort of students?
Jiayi Wang: It is important to pick up technical skills from classes, but I think it is more important to focus on problem solving skills when learning.
​​Shreya Verma: My advice to the next cohort would be to accept that Masters can involve an overwhelming workload at times, but not to let that stop you from pursuing your own interests. Branching out in areas you're passionate about helps make the journey feel more enjoyable!
Navjot Singh: My advice to students is to spend some time consciously thinking about their career path, and what they want to get out of the semester. Data science is an interdisciplinary field that has students coming from different backgrounds, with varying objectives and aspirations. Therefore, it's important to identify your own interests and design your program around them, instead of following what others might be doing. With this bigger picture in mind, decisions become easier and more informed.
Rahulraj Singh: Managing your time wisely can open doors for you. While it's crucial to concentrate on building your career, it's equally important to take breaks from academic and work life to focus on yourself. Columbia has a billion events going on at any given time — try to participate in as many as you can. These 16 months pass-by pretty quick, but the connections you make here will be for life.