Explore the latest data and engineering research from the Columbia University community. Poster Sessions bring together DSI centers, members, and Columbia students to exhibit new projects.
---
Hosted by the DSI Financial and Business Analytics Center
About: We develop analytical and computational tools to manage risk and to support decisions using the growing volume and variety of data available. The center is a community of more than 40 affiliated faculty researchers from nine departments across the Graduate School of Arts and Sciences, Columbia Business School, and Columbia Engineering. Our research thrusts currently include: systemic risks in financial systems and other interdependent critical infrastructures, insurance risk and natural disasters, risk hedging and mitigation for global supply chains, economic fluctuations and uncertainty, consumer/marketing analytics, supply chain analytics, analytics for healthcare delivery, and analytic entrepreneurship. Learn More.
---
Event Details
Wednesday, November 30, 2022 (5:30 PM – 7:00 PM ET) – In-Person Only
Location: Columbia Business School, Geffen Hall (645 W 130th St, New York, NY 10027). 3rd floor Board Room, Room 320
---
List of Exhibiting Posters
Financial and Business Analytics Center Poster Session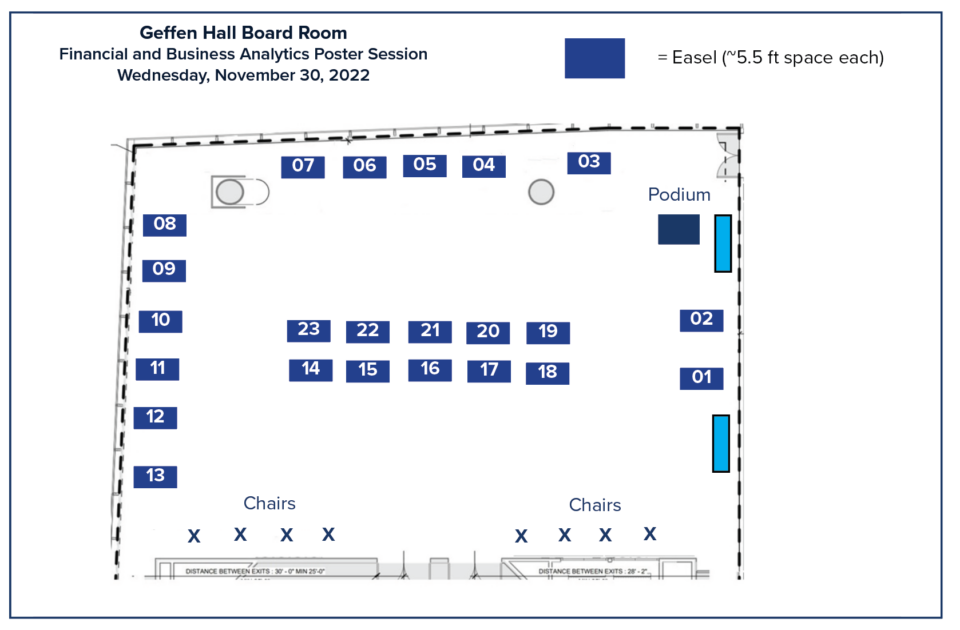 P01: Dynamic Surveying
Team Member: Abdellah Aznag
Advisors: Rachel Cummings, Adam N. Elmachtoub
P02: Multi-secretary Problem with Many Types
Team Member: Akshit Kumar
Advisors: Omar Besbes, Yash Kanoria
P03: When Frictions are Fractional: Rough Noise in High-Frequency Data
Team Members: Carsten Chong, Thomas Delerue, Guoying Li
P04: Iterative Network Pricing for Ridesharing Platforms
Team Member: Chenkai Yu
Advisor: Hongyao Ma
P05: On the Statistical Benefit of Intermediate Outcomes in Long-term Optimization
Team Member: David Cheikhi
Advisor: Daniel Russo
P06: Adaptive Experimentation at Scale
Team Member: Ethan Che, Hongseok Namkoong
Advisor: Jing Dong
P07: Waiting Online vs. Offline in Outpatient Clinics: An Empirical Study on Incomplete Visit
Team Member: Jimmy Qin
Advisors: Carri W. Chan, Jing Dong
P08: The Martingale Approach to Reinforcement Learning in Continuous Time and Space
Team Members: Yanwei Jia
Advisor: Xun Yu Zhou
P09: Achieving Mean–Variance Efficiency by Continuous-Time Reinforcement Learning
Team Members: Yilie Huang, Yanwei Jia
Advisor: Xun Yu Zhou
P10: On the Robustness of Second-Price Auctions in Prior-Independent Mechanism Design
Team Members: Jerry Anunrojwong
Advisor: Santiago Balseiro, Omar Besbes
P11: Single-Leg Revenue Management with Advice
Team Member: Rachitesh Kumar
Advisors: Santiago Balseiro, Christian Kroer
P12: Comparing the Lifetime Value of Lithium-ion Battery Technologies in Wholesale Electricity Markets
Team Members: Umar Salman, Sacha Belasch, Zekun Ji, Danyi Huang, Ningkun Zheng
Advisor: Bolun Xu
P13: Arbitraging Variable Efficiency Energy Storage using Analytical Stochastic Dynamic Programming
Team Members: Ningkun Zheng, Joshua Jaworski
Advisor: Bolun Xu
P14: Simple Policies for Joint Pricing and Inventory Management
Team Members: Harsh Sheth, Yeqing Zhou
Advisors: Adam N. Elmachtoub
P15: Automated Market Making and Loss-Versus-Rebalancing (LVR)
Team Members: Jason Milionis, Ciamac C. Moallemi, Anthony Lee Zhang
Advisor: Tim Roughgarden
P16: Day Trading in Bitcoin and Gold
Team Members: Makoto Powers, Brianna Han, Jane Zhang
Advisor: George Dragomir
P17: Should Bank Stress Tests Be Fair?
Team Member: Mike Li
Advisor: Paul Glasserman
P18: Diagnosing Model Performance Under Distribution Shift
Team Member: Tiffany Cai
Advisors: Hongseok Namkoong, Steve Yadlowsky (Google)
P19: Fair Fares
Team Member: Hyemi Kim
Advisor: Adam N. Elmachtoub
P20: Static Pricing Guarantees for Queueing Systems
Team Members: Jacob Bergquist
Advisor: Adam N. Elmachtoub
P21: 0.904-Guarantee of Static Pricing for Reusable Resources
Team Member: Jiaqi Shi
Advisor: Adam N. Elmachtoub
P22: Balanced Off-policy Evaluation for Personalized Pricing
Team Members: Yunfan Zhao, Vishal Gupta (USC Marshall)
Advisor: Adam N. Elmachtoub
P23: Assessing Corporate Climate Through Big Data
Team Members: Kriste Krstovski, Yao Lu, Siddhanth Sabharwal (UIUC)