DSI News
Alondra Nelson, Sriram Raghavan Headline Data Science Day 2022
April 8, 2022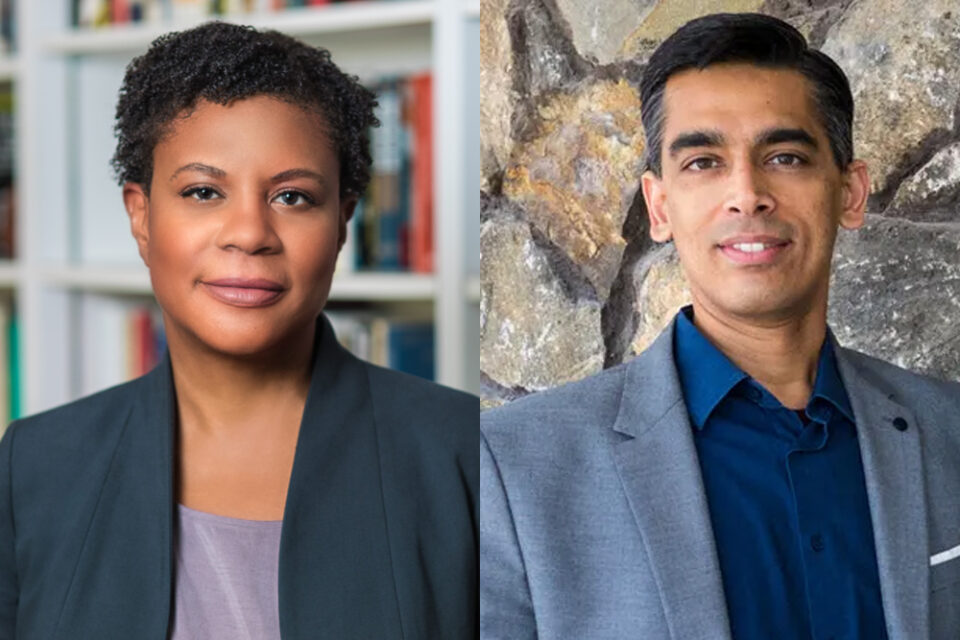 Data Science Day is the Data Science Institute's (DSI) signature event. The annual convening has welcomed innovators in academia, industry, and government since 2016, and it offers an unparalleled opportunity to experience the depth and scope of Columbia University's most innovative data science research.
This year's iteration, held on Wednesday, April 6, was a hybrid event, with virtual keynote addresses and faculty lightning talks followed by an in-person, outdoor poster session on Ancell Plaza in the heart of Columbia's Morningside campus.
Keynote addresses were delivered by Sriram Raghavan, vice president at IBM Research for artificial intelligence, and Alondra Nelson, who performs the duties of the director of the White House Office of Science and Technology Policy.
More than 800 online attendees tuned in for Raghavan and Nelson's virtual addresses. Raghavan discussed how representations have shaped entire fields of science and technology and created new markets, while Nelson relayed the Biden-Harris administration's conviction that science and technology "must be a tool to make lives better, safer, and fairer."
Lee Bollinger, Columbia's 19th and current president, joined the virtual segment of the event to introduce Nelson, who previously served as the inaugural dean of social science for the university.
Post-keynote discussions with Raghavan and Nelson were moderated by Clifford Stein, Wai T. Chang Professor of Industrial Engineering and Operations Research, professor of computer science, and DSI's interim director; and Desmond Patton, professor of social work and DSI's associate director of diversity, equity, and inclusion, respectively.
The keynote addresses were flanked by Columbia faculty lightning talks. The first round of presentations focused on new paradigms of data-driven decision making and was moderated by Ying Wei, professor of biostatistics at Mailman School of Public Health. Presenters included:
The second round of lightning talks on making data science more practical was moderated by Ivan Corwin, professor of mathematics in the Faculty of Arts and Sciences. Presenters included:
More than 200 attendees ventured to Ancell Plaza to browse data science and engineering research posters from DSI-affiliated faculty, researchers, and students. The annual poster session highlighted 60 projects and focused on the next generation of data science methods and applications.
Data Science Day is made possible by the support of DSI's Industry Affiliates Program.