Events
Race + Data Science: Renée Cummings, University of Virginia
Wednesday, October 6, 2021
1:00 pm - 2:00 pm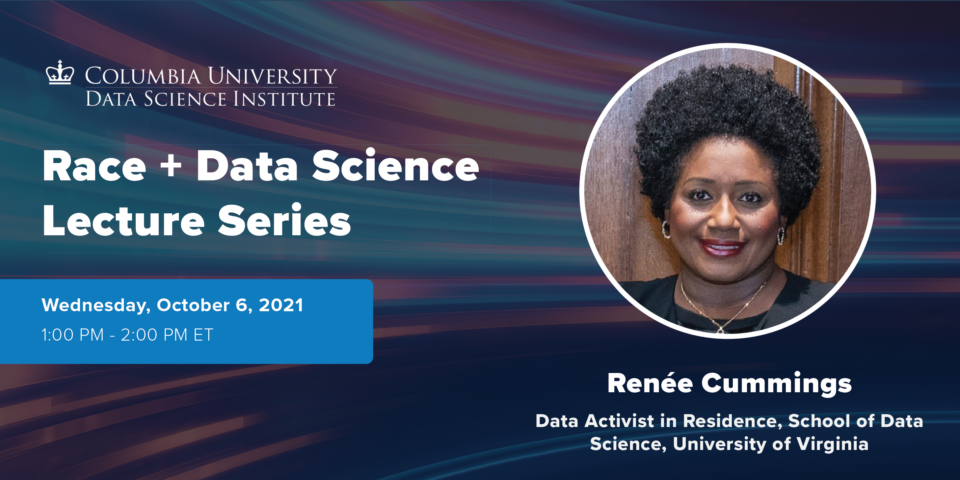 The Race + Data Science Lecture Series aims to celebrate and advance research in the areas of race and data, engineering, and computational science. With this series of events, our goal is to improve how we as data scientists and data-adjacent researchers speak about race.
---
Guest Speaker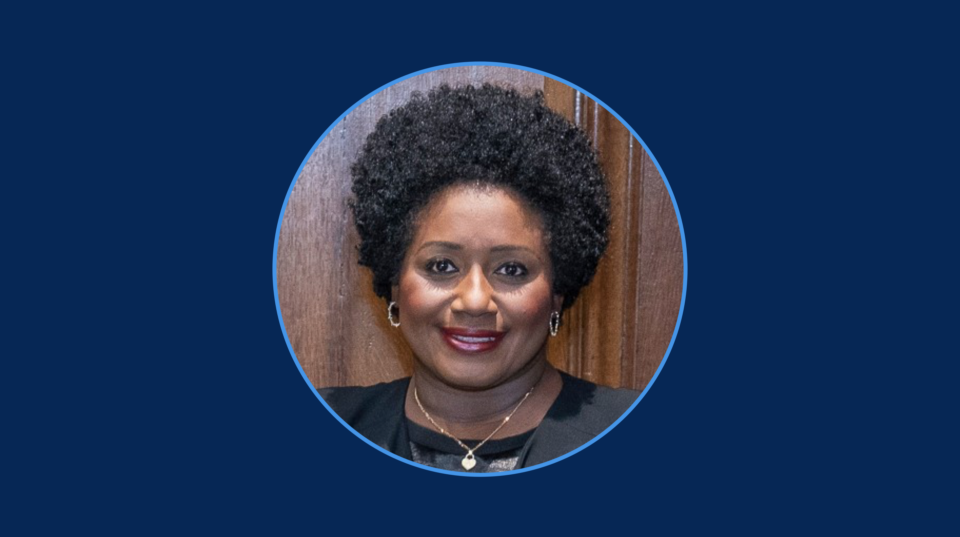 Renée Cummings, Data Activist in Residence, School of Data Science, University of Virginia
---
Details & Recording
Wednesday, October 6 (1:00 PM – 2:00 PM ET) – Virtual
---
Chair & Moderator
Desmond Upton Patton, Associate Director of Diversity, Equity and Inclusion, The Data Science Institute, Columbia University. Patton is also Associate Professor of Social Work; Associate Dean of Curriculum Innovation and Academic Affairs; and Courtesy Appointment in Department of Sociology, Columbia University School of Social Work.
---
Abstract & Biography
Talk Details: As algorithmic injustice continues to undermine the maturity and integrity of many artificial intelligence and data-driven systems creating a trajectory of harm and inequalities, AI ethicist, criminologist and data activist Renée Cummings says it's time to reimagine ethical AI. In this "real talk" about race and data, Cummings will explore the dangers of technological tokenism and coded patronization as she deconstructs real time data activism and constructs a future of eternal vigilance for ethical AI.
Bio: Renée Cummings joined the University of Virginia School of Data Science in 2020 as the School's first Data Activist in Residence. She is a Criminologist, Criminal Psychologist, Artificial Intelligence Ethicist, Therapeutic Jurisprudence Specialist, and Urban Technologist. Her areas of research interests include artificial intelligence, political science, and criminology. She studies the impact of artificial intelligence on criminal justice, specifically in communities of color and incarcerated populations.
In her work as a Criminologist, Cummings founded Criminal Justice Intelligence Inc., which works with governments in the Caribbean to strengthen crime prevention, incorporate new technologies in existing crime prevention strategies, and develop behavior and hardware strategies that interlink to reduce vulnerabilities and tailor more proactive approaches to crime control and crime reduction. Cummings also founded Urban AI and is an East Coast Regional Leader for Women in AI Ethics. In her time in New York City, Cummings brought her expertise to train police officers and law enforcement agents to decrease homicides and gun and gang violence.
Cummings specializes in implicit bias, AI ethics, and best-practice criminal justice. She holds a M.S. in Rehabilitation Science and Substance Abuse Counseling from Hunter College, a M.A. in Criminal Justice from John Jay College, and Master's Certificate in Terrorism Studies. Cummings designed her own Bachelor's degree at Hunter College in Political Science, Philosophy, Media Studies, and Creative Writing. Cummings is also a Community Scholar in Artificial Intelligence and Criminal Justice at Columbia University.
---
The Race + Data Science Lecture Series is supported by funding from the MacArthur Foundation and New America.